New Trailer For "Horns" Makes It Look Pretty Awesome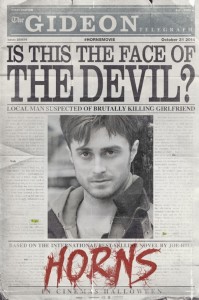 Horns, based off the book by Joe Hill, stars Daniel Radcliffe as a man persecuted by forces both natural and supernatural.
And the new poster (pictured to the right) and trailer (embedded below) looks pretty sweet.
I wasn't really excited about this film until I watched the new trailer. But I guess that's the whole point of trailers, isn't it.
Horns comes out in the UK on October 31st, and somewhere thereabouts in the US as well.
I think.
We'll find out.
Via The Mary Sue