A New Captain America Rises!
So after the announcement of Female Thor, people have been watching Marvel with a bit of curiosity it seems. And Marvel, not being a company to waste good hype, did not disappoint as they revealed a major change for yet another one of the big three Avengers. A new Captain America is coming, and its former Falcon Sam Wilson.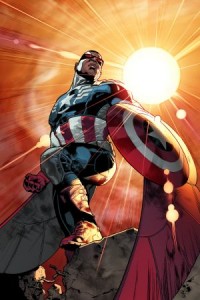 Now Sam was definitely the breakout character of The Winter Soldier film, so there's no question he's popular, but after decades of being Cap's partner, it will be quite the change to see him as the lead for a bit. Now because Steve is my favorite superhero, it'll certainly be something to get used to, but Sam's such a great character it should work.
The only thing I'm not looking forward to in this is how upset every racist comic book reader is gonna be that Captain America is black.