Legendary Pictures Teases a Monster Mash for Godzilla 2
Legendary Pictures, on their Twitter and at their Comic Con panel have revealed some shocking plans for the Godzilla sequel.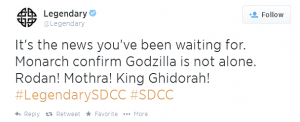 There's been speculation that we might get one of the other Toho monsters, but all of the A-Listers? Wow. Even as Nerd & Tie's resident Debbie Downer, I can't help but be excited.
I don't wanna speculate too much, but Mothra has always been a "good" monster and Ghidorah's first appearance was him menacing the Earth, only to be thwarted by Godzilla, Mothra and Rodan.  Revisiting that chapter with a big budget could be amazing. Don't let me down Gareth Edwards.