Webcomic Artist Yale Stewart Does Everything Wrong
Yale Stewart, the creator of the webcomic JL8,is at the center of not one but two scandals right now… and it's kind of amazing when you parse it out. I mean, we are literally spanning the gamut of artistic integrity to dick-pics here.
It's kind of incredible.
Before we get started down this bizarre road of the full spectrum of inappropriate behavior, we should probably explain who the heck this guy is in the first place, and what he does.
As stated just a mere set of sentences ago, Yale Stewart is the artist and writer of JL8. JL8 is an unlicensed fancomic that presents the members of the Justice League as kids. He makes no money from it, but its success has led Stewart to licensed work and some independent stuff. In relation to JL8, Stewart often produces and sells computer wallpapers that use DC characters (again, without permission) to raise funds for charity.
While some have said Stewart does this for self promotion more than goodwill, it wasn't really an issue with anyone until he produced the following in regards to the events in Ferguson, MO: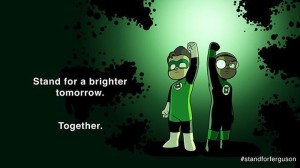 Cartoonist
Ulises Farinas
took offense to this (as I kind of do too),
and took to Tumblr
, saying (minus the censorship on the obscenity):
Putting two images of SPACE COPS as your "SUPPORT FERGUSON" wallpaper, and offering it for a DOLLAR, is f***ing gross. And i hate that we can't distinguish between support and capitalism.

You know the only reason the dollar is going to the ACLU, is he because the product he's selling isn't a wallpaper, its himself.
So yeah, there's been a bit of outrage.
If that was all that happened though, I probably wouldn't be writing this article. You see, after the accusations of crass, unthoughtful self promotion were floating around, some information came out that moved public opinion on Mr. Stewart from "insensitive jerk" to "wow, what a creep."
Earlier this week, rumors began to spread that Stewart had sent unsolicited photographs of his junk to women. A, umm, photo surfaced of this which I won't link to (but you can find via The Outhousers article I just mentioned). Once this came out, others in the comics industry seemed to confirm it:
I was warned about Yale Stewart quite a while ago. He's just one of many we talk about and warn each other not to trust.

— Janelle Asselin (@gimpnelly) August 20, 2014
If that pic isn't enough, know that it was sent to someone who said she had a boyfriend and wasn't interested

— Kate Leth (@kateleth) August 20, 2014

The general response to the accusation from people seems to have been "Oh yeah, he does that kind of stuff." In fact, in just July, there had also been accusations of it as well — only back then we didn't have the visual evidence.
So yeah, I mean, while no one has come forward about the "dick pics," it seems likely that Stewart seems determined to act in a creepy, opportunist way.
Stewart has written a response on his Tumblr, in which he said the following about the photograph of his genitals:
Have I sent intimate photos of myself to women before? Yes. I'll absolutely admit to that. As a 26 year-old bachelor with a relatively healthy sex life in the internet age, these things happen. However, every photo sent was in direct response to either a photo received or a specific request.

Or so I thought.

Two years ago, I was engaged in two separate relationships with women whom I was sexually active with. Given the nature of these relationships, my experiences in past relationships, and various dialogues with these women, I thought it had been established within each relationship that intimate or explicit photos were acceptable, possibly even desired.

I GROSSLY misread the situation.

It has been brought to my attention that both of these women were uncomfortable with my behavior, and needless to say, I'm absolutely disgusted with myself. How I could so horribly misinterpret the situation confounds me, but that confusion pales in comparison to the shame of knowing that I did the very thing to these two women that I openly chastise people for on a regular basis. Also, beyond that, that these women felt this way for TWO YEARS without me knowing and attempting to make amends, which is wholly unacceptable in its own right.
A couple of things here — one, apparently if you're squicked out by a guy and avoid talking to him, you're secretly telling him "everything's cool." Secondly, he's under the weird impression that the rest of us have all taken dick pics.
I haven't, for the record. And that's the sort of thing you don't guess that it's okay to do — that's something you should only do if it's asked for. And while Stewart claims he was in a relationship with the recipients, others have called that into question.
Stewart also said that people have been calling and harassing his mother, which is something you shouldn't do. Hell, you shouldn't be harassing Yale Stewart. This is a "reasons to never hire a guy" situation, not a "threaten him and his family at home" situation — the latter which is only acceptable if someone has kidnapped your child or something. Or if he sent a dick pick to you — then go ahead I guess, but leave the dude's mom alone. I guess the unwilling dick pic recipients have decent cause.
But the rest of you? If you're directly harassing the dude, stop and leave the creep alone.
In the end, at the very least, Stewart appears to function on a level of crass tone-deafness, be it professionally or personally, and the real question is "will he dig this hole any deeper?"