"The Secret Six" are officially back!
The rumors of DC finally bringing a New 52 version of "The Secret Six" into print have been rampant for a while, but Hero Complex has now confirmed that they are, in fact, very, very true.
And I'm excited.
As for the art team behind it, Dale Eaglesham is on covers, and Ken Lashley is on interior art. I'm not sure why I need to tell you this, but (of course) Gail Simone is writing the book. Eaglesham is doing the character designs as well, and according to Simone the book will feature both Catman and Black Alice as part of the team. Who else will fill the roster is unknown, but it is possible to make inferences from the cover released for Issue #1: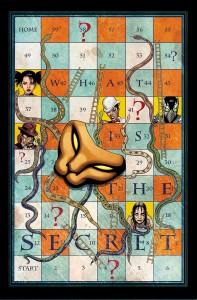 I'm excited. Are you excited? You should be excited. The book should be out in December.
Via Hero Complex