Awesome Con Milwaukee Officially Canceled
So Awesome Con's attempts to make inroads into the Midwest haven't exactly been smooth. Their Indianapolis event in October drew significantly smaller crowds than anticipated (the organization anticipated 20,000 attendees but on the floor estimates put the number that showed up in the four digit range). On October 14th they were forced to announce they had lost a significant portion of their guest list for Awesome Con Milwaukee, and they slashed their admission prices in an attempt to drum up interest.
Sadly things haven't gotten better for the organization, and Awesome Con has had to make yet another announcement: Awesome Con Milwaukee is canceled.
Ben Penrod, President of Awesome Conventions, posted this to the Awesome Con Milwaukee Facebook page earlier today: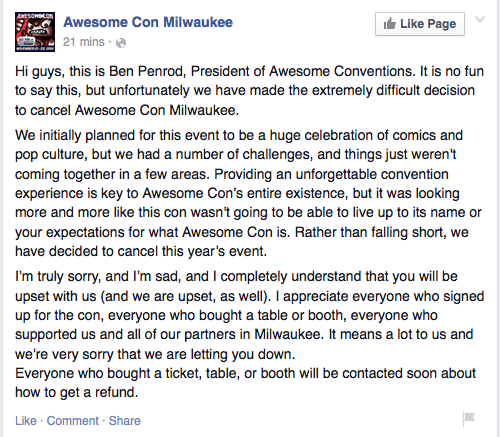 I will be the first to admit that I haven't been too kind to Awesome Con since they first announced their Milwaukee event. Their Milwaukee Event was scheduled for November 21st-23rd, the long established weekend for Daisho Con in the Wisconsin Dells. Even by my own standards, my response was exceptionally harsh.
That said, I had actually begun to come around on the matter — while I was still angry about the date issue, the staff of Awesome Con has shown themselves to be gracious and (frankly) perfectly nice people.
But I believe this shows a realization that they had not really fully investigated the realities of the Midwestern convention scene prior to moving in. Low population density in the Midwest means you have to work harder to draw regional appeal to be successful, yet Awesome Con didn't see that as a priority. You would be hard pressed to find representatives from Awesome Con at any Wisconsin con over the last year, so its no surprise that enthusiasm has been low.
In truth I hope they try again, only with a larger regional outreach and perhaps slimmer budget expectations.
Maybe then something awesome could happen.
Thank you to David Capito, Jen Oven & Mike Frey for the tip