Spotting a Scam: The Bill Beckman Casting Agency
Some of you may remember that back in January there was a weird buzz based around a suspicious casting call put out by "Bill Beckman Casting" that The Amazing Spider-man 3 was going into production. Now, we all know that's patently false now, but even then most of us figured out it wasn't legitimate.
As other people had pointed it out, we mentioned that the casting call was likely a scam. Life moved on, and we thought that it was the end of the story.
That was until we got an email from the "Bill Beckman Casting Agency."
At 5:21 AM on February 21st, the following email found its way into the Nerd & Tie mailbox:
To: tips@nerdandtie.com
From: bacasting1@gmail.com
Subject: re: CEASE AND DESIST Preliminary notice
Date: 2/21/15, 5:21 AM

Hello,

Please remove the following page within 24 hours: http://www.nerdandtie.com/2015/01/07/amazing-spider-man-3-is-not-in-production-reported-casting-call-a-scam/

It contains false and defamatory statements about Beckman Casting that constitute interference with business relations under California and New Yorklaw. If you have counsel, please have your counsel contact us.
Please note, if this page is not removed, the next contact will be from our attorney, Jacklyn Kim, CA Bar #: 250841

We hope that we can resolve this issue amicable without involving attorneys. This casting call was posted and then retracted by a client.

Thanks,

—
Andrew Manning
Casting
Bill Beckman Casting
http://www.bacasting.com

Over 25 years in the business casting for projects with
ABC, NBC, CBS, Warner Bros, Dimension Films
As the email was not specific as to why I should take down the page, I can only assume that it's because I use the words "Bill Beckman Casting Agency" and "scam" in the same sentence. Now, you'll have to forgive me, but this is far from the first Cease and Desist I've stumbled across is my life. I'm far from easily intimidated by legally worded language, so my first response was amusement. Beside the fact that New York and California state law don't really apply to a website run out of Indiana, my calling their site a likely scam was based off of third party sources — most of whom still seem to be saying the same thing.
But what the hell, let's actually take a look at the Bill Beckman Casting Agency and why it's probably a scam.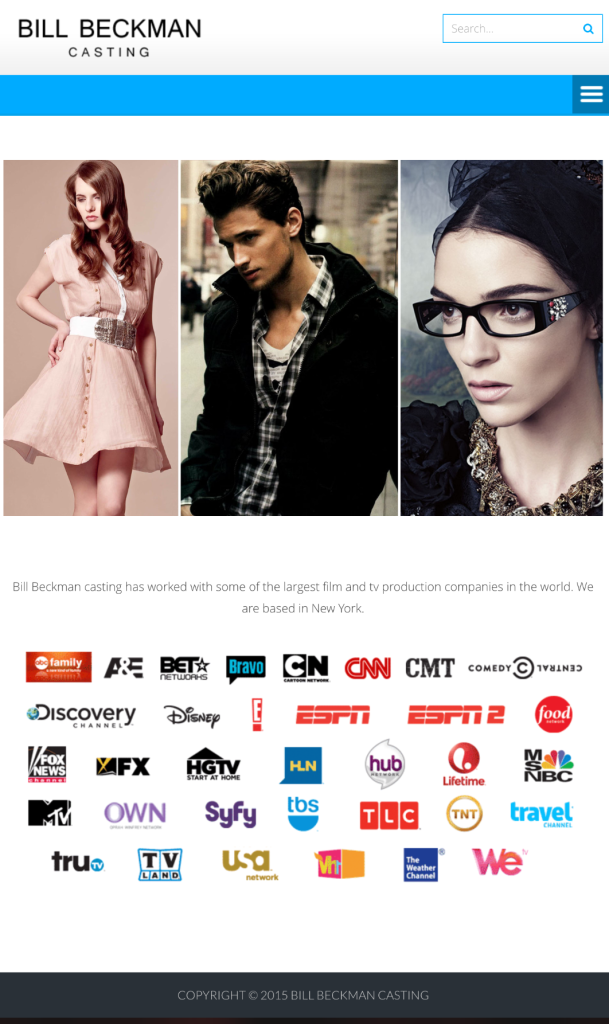 The first thing you'll notice when you go to
BACasting.com
(a strange URL for the Bill
Beckman
Casting Agency) besides the title and menu, are a set of three images followed by a graphic of "clients" the Agency has supposedly worked for.
Here's the thing: All of these images are stolen.
The image on the left? That's from a 2010 fashion shoot with Oana Timerman. Timerman was with an agency at the time (though not Beckman Casting), but currently is not represented by anyone. Also, she's in Romania, not New York, California, or anywhere else Bill Beckman Casting claims to operate.
The second image is from Express's September 2011 campaign and features Garett Neff. Garrett Neff, like , is verifiably not represented by the Bill Beckman Casting Agency.
The third image is from a 2010 Dolce & Gabbana campaign, but I didn't bother researching the model. Because it's still a stolen, uncredited image, and it's not like a third verification would make a difference at this point.
Finally, the image of channels at the bottom? Directly ripped from a Mediacom Cable webpage. I mean, I'm not saying people should work harder when they're stealing stuff, but they could have at least tried to hide it.
So a lot looks suspicious right on the surface, it's impossible to deny. But a crappy homepage isn't necessarily proof it's a scam. I mean, it's a red flag for sure, but as a former professional web developer, I've worked with clients that tried to insist on using images they don't have the rights to. While I never used them (nor did the company I used to work for), that doesn't mean some unscrupulous designer wouldn't.
But again, big red flag.
Then I started to look into the history of "Bill Beckman Casting." According to their site, the Bill Beckman Casting Agency has been in business for over 27 years. They specifically claim "We are based in NYC and have satellite offices in LA, NYC, Miami and Chicago" and list their address as "Bill Beckman Casting, 15 Little West 12th Street, NYC 10014."
Now I went to New York's business entity search and California's as well, and was not able to find any record of a business entity operating under the name Bill Beckman Casting (or as listed on the terms of service "Beckman Casting Limited"). I searched for every variation I could think of, but I'm completely certain that the Bill Beckman Casting Agency is not a legally registered company doing business in either state.
That address? It's a real building, but that whole space is currently leased to Palantir. Now, Palantir is a fairly well known security technology firm with contracts with the US Military, CIA, FBI and NSA. If you show up there looking for an audition you'll find yourself escorted out pretty quickly.
And maybe arrested.
If you literally need me to keep going, it's interesting to note then that their website has only existed since September of 2014. In fact, prior to September of 2014 there is no evidence that Bill Beckman Casting ever existed. Any testimonials out there? They date back to Fall of 2014. Their Facebook page? Only goes back to September 2014.
I cannot reiterate how flimsy a construct this whole thing is.
And all of this, all of this? The lies, stolen images, and fake stories? This is not the reason I implied they were likely a scam in the first place. The reason? They're charging to let you audition.
If you remember, this all started with a casting notice. Since it's been pulled down, here's the Archive.org copy of it. But if you go through any casting notice on the site and apply? Well, then you're given this page.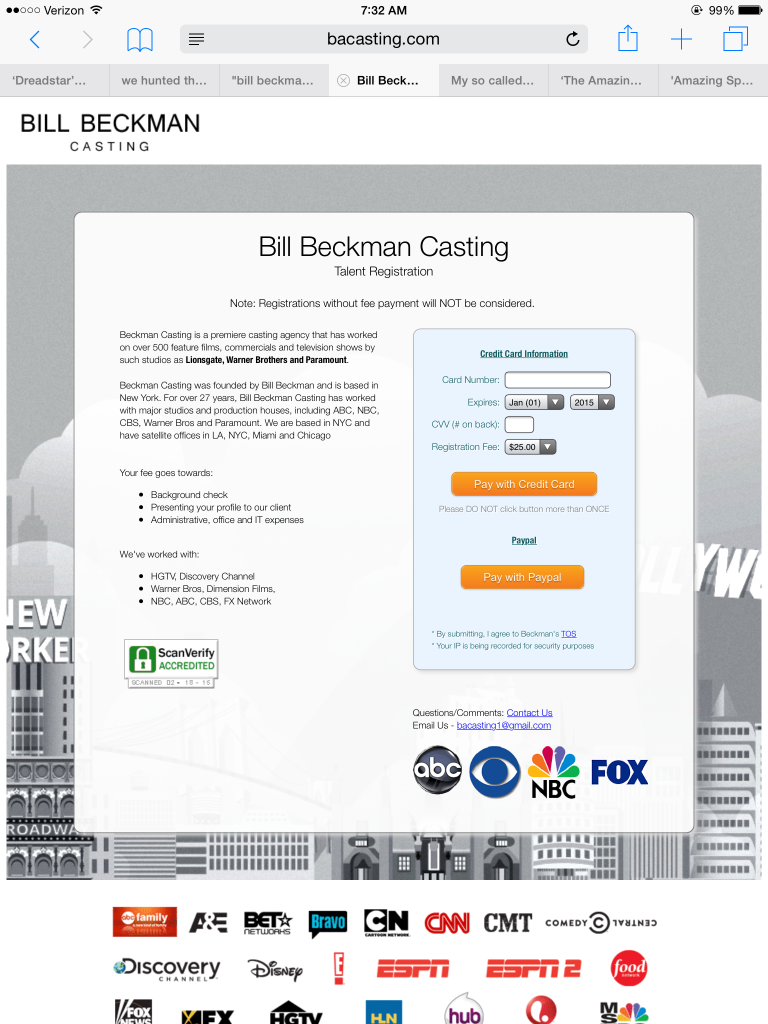 To apply for
anything
on the Bill Beckman Casting Agency site, you have to pay $25. And it doesn't appear to be a one time fee –
there are complaints
on the Bill Beckman Casting Agency Facebook page about not being able to cancel
recurring
charges from the site.
What does SAG have to say about all of this? Why they proclaim this exact behavior unethical. According to
SAG's website
:
One company recently solicited headshots from actors in Atlanta and Minneapolis – the pitch was that they were going to cast in both cities for a Hollywood film. For a $25 fee, actors were given an appointment date and time to try out for the movie. Problem was that the Atlanta auditions were canceled and the Minneapolis auditions turned out to be a total sham. Those who went not only did not get seen for a part, but they lost $25. Again, some of these are in fact legitimate auditions for films, but it is always a good idea to contact your local SAG office to find out.
That same page also has the following salient advice: "Don't Pay Casting Agencies."
We can also talk about how they've had listings for films that haven't been greenlit by the studios yet. Y'know, Like "The Amazing Spider-man 3" or Independence Day 2: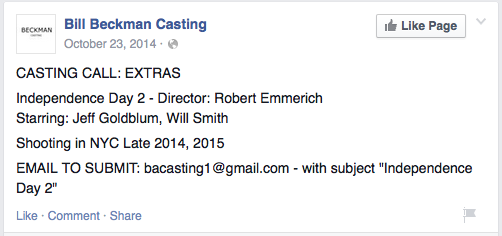 For the record,
Independence Day 2
has since been greenlit — but that wasn't until a month
after
this posting. And the film doesn't even have a script yet, let alone is it at the stage of casting
background performers
.
That is why I said the Bill Beckman Casting Agency was likely a scam. I had no idea the rest of this even existed until after they contacted us directly.
In a possibly related epilogue, digging through Bill Beckman Casting Agency material led me to "EIPA" or the "Entertainment Industry Professionals Association" with the website EIPAUS.org. As far as I can tell, it claims to be a professional organization for entertainers, but like BACasting.com has only been around since this last fall (November in EIPA's case), their address is a disguised PO BOX, and they appear to exist just to take money from the naive.
I'm not saying they're directly connected to BACasting.com, but… c'mon.