David Lynch Exits Twin Peaks Revival?
We've known for a while that Showtime was working on a revival of the 90s cult TV show Twin Peaks, and that both original series star Kyle MacLachlan and series creator David Lynch were on board.
Well, the latter? Not so much anymore.
A report from Business Insider stated that the project had been cancelled, but David Lynch took to the internet to clarify that he had merely left the project himself. A post appeared on the official David Lynch Facebook page: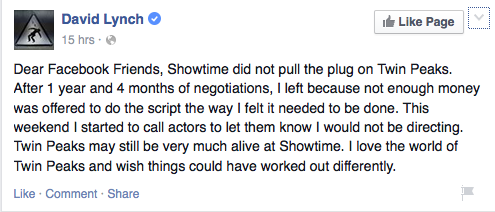 Is the show still happening? Maybe. Showtime has since issued the following response (via
Hitfix
):
We were saddened to read David Lynch's statement today since we believed we were working towards solutions with David and his reps on the few remaining deal points. SHOWTIME also loves the world of Twin Peaks and we continue to hold out hope that we can bring it back in all its glory with both of its extraordinary creators, David Lynch and Mark Frost, at its helm.
Where this leaves the project is certainly confusing – Showtime seems hesitant to go forward without Lynch, but Lynch seems to be perfectly comfortable letting the project go on without him.
Only time will tell.
Via Screenrant, Business Insider, Hitfix