Titletown Comic & Entertainment Expo Cancels October Event
We mentioned about a week ago that Titletown Comic & Entertainment Expo (TCE2) was having some financial troubles. With less than a month away until their intended October 2-4 dates, they looked anything but stable.
Over the last week, things got even rockier. Financial woes with Green Bay's Ki Convention center culminated with the event moving venues, and multiple vendors backing out of the convention.
All of this reached a head yesterday, when convention management decided to throw in the towel, and cancel the October con.
In an announcement on their Facebook page, organizer Denni Towle explained in detail the reasons behind this decision: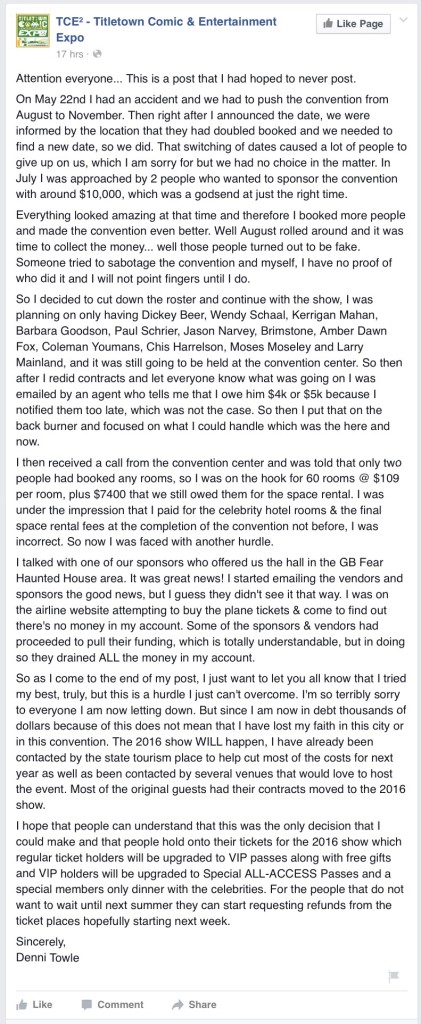 All hope is not lost for the event. Instead of the October con, TCE
2
will hold a convention June 17-19, 2016 (dates originally intended for a second convention). Hopefully the additional time will let them get their ducks in a row, and bring a three day comic convention to Green Bay.
The biggest sin committed by Towle isn't any sort of malice, but just plain inexperience. Wisconsin has a pretty tight knit convention staff culture, and if he reached out to them (especially groups like Kitsune Kon who share a venue), he might find more support and success than what he's had lately. TCE2 would be a new, independent show in a genre usually only supported by large corporations in this region, and personally I think the more independent shows the better.
Let's hope Towle is listening though.