Hey Look, It's a 'Warcraft' Trailer
Legendary's first trailer for the Warcraft movie came out today. Based on the video game series… it's very Warcraft-y. I mean, it looks kinda interesting, but it's also a movie based on a long running video game series — so who knows. Video game movies don't exactly have the best track record.
Besides the trailer (which is embedded below), Legendary has also put out a couple of posters for the film: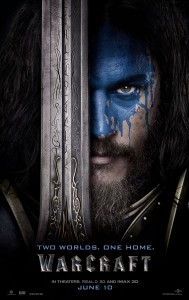 As the film is based on a strategy game series turned MMO, it's not like there's really a central character from the games to use for the film. It means whether this thing works or not will depend entirely on how well the screenplay brings us a story set in this world. I don't know if anyone is actually
excited
for the film here at Nerd & Tie, but I'll probably end up seeing it. If you're excited about it, let us know — because honestly we're curious.
Warcraft comes to theaters June 10, 2016.