The New 'Batman v Superman' Trailer Gives Us a Good Look at Doomsday
Honest to god, I think they've literally spelled out every major plot point across the entirety of next year's Batman v Superman: Dawn of Secret Infinity Crisis in the Zero Hour of Justice in these trailers. There is, of course, a new one out (which I've embedded below), but I actually feel weird talking about it – as I feel it's a little spoilery.
The one thing I will mention is that we get a pretty damned good look at the version of Doomsday that'll appear in the movie. For those who don't want to spoil the circumstances of his introduction (which I think the trailer might) but want to take a look, here's a screen grab: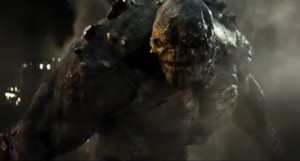 That's all I really think there is to say about this — other than the fact that we get a bit more of Gal Gadot's Wonder Woman in there too… which makes me happy. The more Wonder Woman, the better.
Batman v Superman: Dawn of Justice hits theaters March 25, 2015.