Attendees Still Awaiting Refunds From Cancelled Titletown Comic & Entertainment Expo
Last fall we reported on the financial straits and eventual cancellation of the October Titletown Comic & Entertainment Expo (TCE2). The organizers claimed that they were instead going to focus on their planned June event instead (which is currently scheduled for June 3-5, 2016), and offered attendees refunds.
Well, maybe "offered" should be in quotes.
You see, it's been almost three months since TCE2 organizers offered said refunds, and for at least some people they've yet to appear. On the official Facebook announcement about refunds, attendees began to ask where their money was back in December, but still haven't received any response. In fact, the discussion continues into January: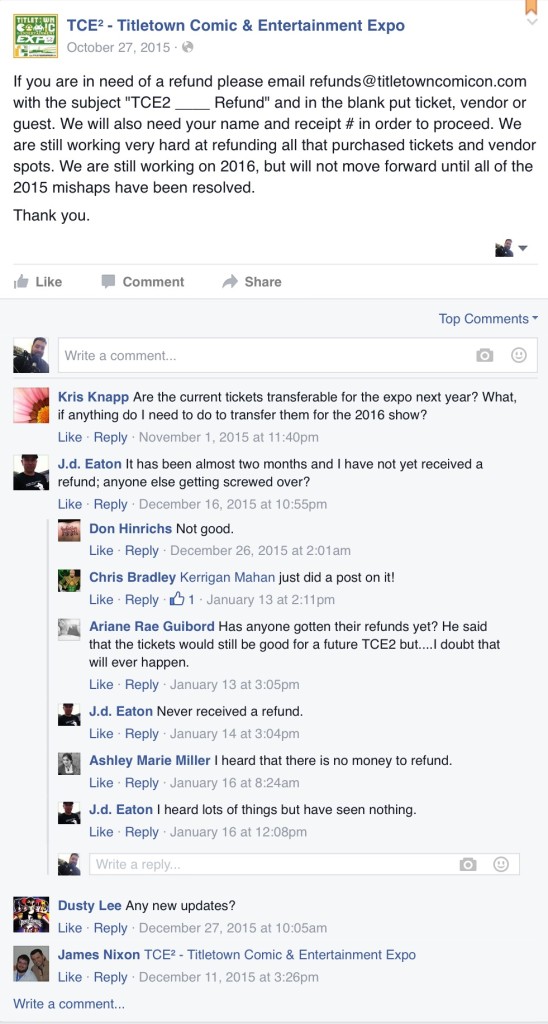 The fact is that organizer Denni Towle appears to have gone radio silent on the matter.
Not all is bleak though, as Actor Kerrigan Mahan (who was originally scheduled to appear at TCE2) posted to his Facebook page that to try and make up for not having appeared that he'd give a "free photo or shout out for every autograph purchased" at the Madison "YourminiCon" in February (Update 1/19: Uh, Not so much anymore). Mahan also had some choice words for the promoter: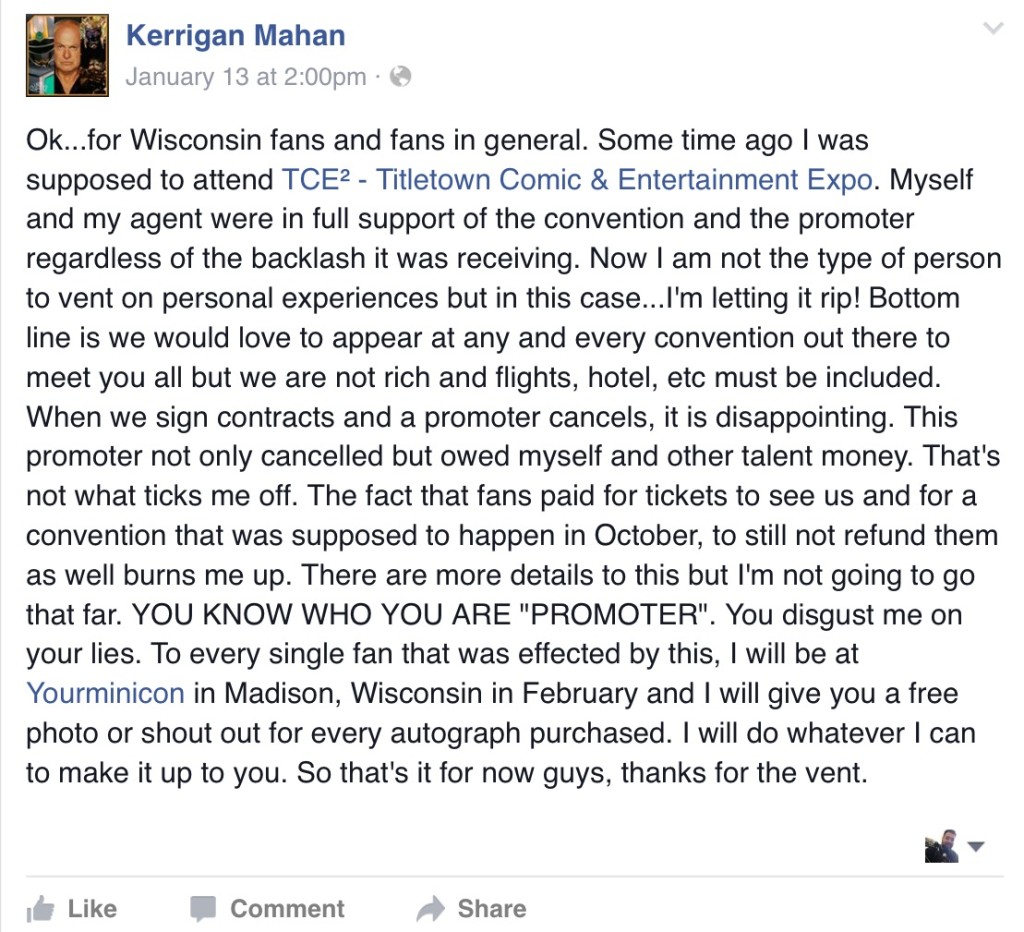 The entire comment thread is worth reading as well, as it appears that even the hired guests haven't gotten much of a response from the TCE2 organizers.
In the end, what it looks like is that TCE2 organizers have is a lack of funds. They haven't issued refunds because, in all likelihood, they're out of money. It's probably not malice driving this, but the situation itself. But again, this is supposition – we haven't heard this from the horse's mouth. Because of that, people are going to always jump to the worst conclusions whether they're deserving or not. The lesson here for convention organizers is that transparency is a good thing, and if you can't refund someone's money you should tell them why.
Radio silence is never a good thing, because people will always fill the void when given one.
We reached out to TCE2 organizer Denni Towle for comment, but have yet to receive a response.
Update 1/19: TCE2 organizer Denni Towle has apparently taken down almost all posts and content from the convention's official Facebook page (including the one previously linked in this article).
The following post also went up on the page about refunds, which may lead to some resolution: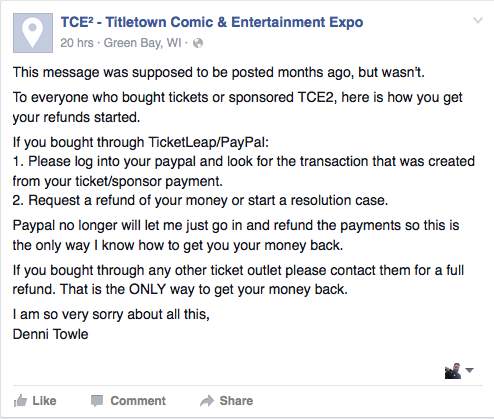 Update 2/10: It looks like TCE2 is officially dead.
Full disclosure: Nerd & Tie is currently planning a convention scheduled for September 2016 in Eau Claire, WI