Yourminicon Cancels Six Events Including Yourminicon Wisconsin
Yesterday we, probably for the first time ever, mentioned "YourminiCon Wisconsin" in a post. Well, anyone who saw that and suddenly decided "Hey, I'd like to go to that convention!" should sit back down — because as of an announcement last night, it's not happening anymore.
Yourminicon, which operates a number of events, announced on their Facebook page that they were cancelling six of their upcoming events in Wisconsin, Georgia, California, Kentucky, Idaho, and Texas: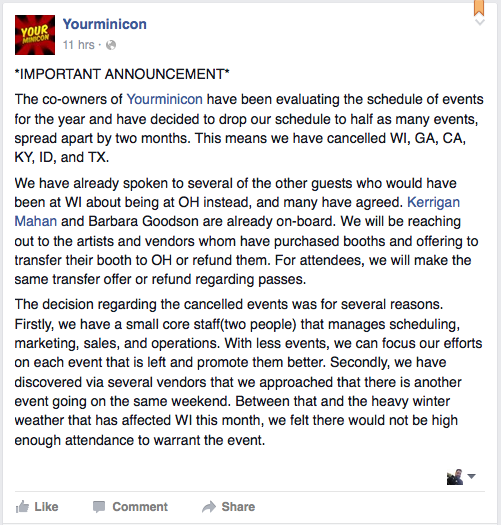 The Madison, WI event was scheduled for February 6-7, which means this cancellation is less than three weeks out from the event.
Dropping this many events at once can't be seen as anything other than a bad sign for the company. Yourminicon is a fairly new operation, having run their first con in 2015, and their attempts to initially run 12 events was exceptionally ambitious. The fact that they're now scaling back to only six means one of two things: either they bit off more than they can chew, or money's tighter than they'd like to admit.
We can't really be sure right now.
Yourminicon has stated they will be refunding or transferring memberships and booth sales to other events. We'll see how that turns out though.