And Now YourMiniCon Has Cancelled Their Maine Convention
After running a successful convention in Connecticut, YourMiniCon went on an aggressive expansion plan to run an additional eleven conventions across the nation. But after running their second Connecticut convention, they began cancelling events left and right.
First they cancelled six conventions back in January — just weeks before one of the events. This was followed in February with the cancellation of another four conventions.
Out of the twelve events planned for 2016, only two remained (including the Connecticut event which has already taken place).
Well, now that Connecticut convention is all that's left. On Friday, YourMiniCon announced on Facebook that their Maine Convention (scheduled for May 21st) has now been cancelled as well.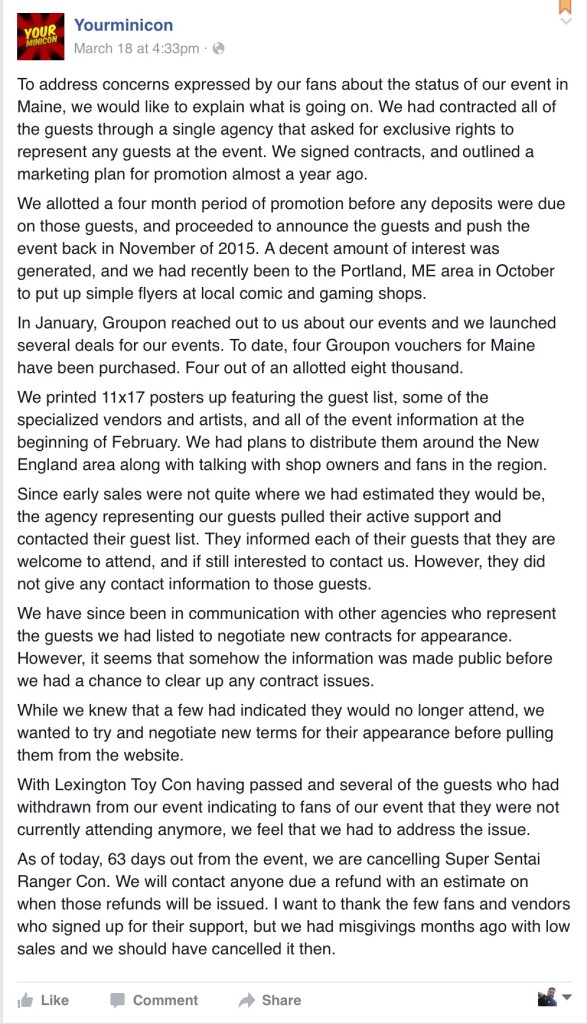 This almost complete implosion of YourMiniCon's attempt to build a national brand is disappointing, but not a total shock. They say in the post that those needing refunds for the Maine event will be contacted soon (if they haven't been already). That said, we know of at least one artist who (as of two weeks ago) was still waiting for a refund from the Wisconsin show cancelled back in January.
YourMiniCon has stated that they still plan on running a con in Connecticut next year, and will make an announcement regarding it in a few weeks.