Anime Apocalypse Officially Calls It Quits
Well, it's official – Illinois based anime convention Anime Apocalypse has called it quits. Last week, the convention chair Corey Wood posted the following announcement to Anime Apocalypse's official Facebook page: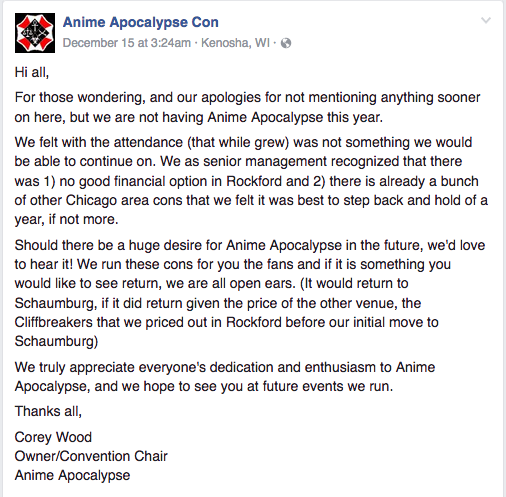 Anime Apocalypse was first held back in December of 2012 in Rockford, IL. For their last convention, they shifted a month later and relocated to Schaumburg, IL. From all reports, that relocation saw a significant drop in the convention's attendance. With that in mind, the cancellation is frankly unsurprising, as no announcements had been made about their next convention (which likely would have been held next month had they been going forward).
Whether or not Anime Apocalypse's failure is part of a larger pattern is hard to say at this point, but it can't be a great sign.
h/t to KORfan