The "Don't Knock Twice" Trailer Teaches You To Leave the Creepy Old House Alone
So Don't Knock Twice stars Katee Sackhoff as a mother who has recently relocated to the United Kingdom to reconnect with her long-lost teenage daughter, but said teenage daughter is a bit obsessed with an evil witch. You know, normal family stuff. Needless to say, as we see in this trailer for the film, things don't go super great for them because of this.
They've also released a poster for the film, which is very reminiscent of (and I assume a callback to) the 1986 movie House.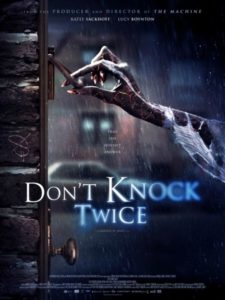 Contrary to what the video says,
Don't Knock Twice
comes out February 3rd in theaters and on demand.