Elite Con's Cosplay Ban Is Causing the Internet to Flip Out
Elite Con is a tiny, one day collectors' show scheduled for this Sunday, March 12th, in Tampa Florida. It's a small, specialty event targeted exclusively at high end collectors, and normally it'd just fly under everyone's radar.
Except thanks to social media, not so much.
You see, the convention made a couple of posts the other day (which have since been deleted) to their official Facebook page detailing a policy which has turned out to be fairly controversial: The con has banned all forms of cosplay.
Their original post included an image of a cosplayer dressed as The Joker, and said:
Just one week to Elite Con so a quick reminder in case you missed it along the way, there is no cosplay allowed at Elite Con. We appreciate cosplay but we want to keep the focus on the collectibles for our event. Thank you in advance for your adherence to this policy!
After an initial negative reaction, the con followed up the post with another (which also used the same image):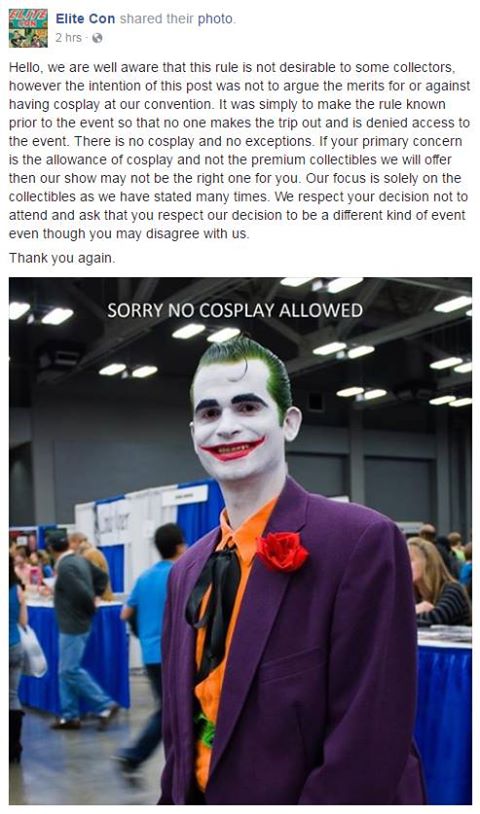 These posts about the policy started making the rounds, and that's when the backlash began. Here are just a few random samples:
That's #EliteCon. They have no idea what a "con" is & #Cosplayers are considered a *hassle* (check the homepage). It's in the name really. https://t.co/WZ982qvmBZ

— Adi the Adipose (@aditheadipose) March 7, 2017
When you discover a convention is banning cosplayers pic.twitter.com/OpMt3ZuFGx

— TITANS of COSPLAY (@TITANSofCOSPLAY) March 8, 2017
So… yeah, let's talk about this.
First and foremost, while it is a silly policy, Elite Con has every right to have it. The show is obviously aiming for a very specific demographic, and if they want to limit it, it's their prerogative.
The strangest part of this, at least to me, are people who are questioning whether or not this should be called a convention. Yes, Elite Con will just be a vendor room and nothing else, that doesn't make it not a con. While Flea Market style events are uncommon in science fiction, anime, gaming… and well just about every other kind of fandom conventions, in the comics and collectible world these things are all over the place.
People sometimes forget that not every part of the convention world is the same.
Honestly, my only real problem with those posts is that they took a random cosplayer and made him the involuntary face of their policy. While it's true the photo they used can be repurposed under a creative commons license, it requires attribution which their post lacks.
The con has now tried to go into damage control mode, posting a lengthy follow up to the now deleted earlier posts (Update: This post has now been deleted as well):
Frankly, I hate to say this but this whole thing really feels like people making mountains out of molehills. Is it a dumb rule? Holy crap yes it is. Honestly it does feel connected to the weird bias against cosplayers some members of the comics community have, but if these guys want to have a stupid policy and limit who attends, it's their right. If there's a market, they'll find it — if there isn't, they won't.
And the rest of us can go spend our time at better cons.
Update: The con has deleted their earlier posts about cosplay, and just left up a statement saying they pretty much just don't want to talk about this anymore.