Fans Are Angry That Creation's 'Star Trek: Las Vegas' Will Charge Extra for Next Generation Reunion Panel
Creation Entertainment's events aren't your typical conventions, but those who attend them are usually guaranteed a very specific experience. This is especially true for people who shell out for the con's $849 "Captain's Chair" or $929 "Gold" packages, which get access to exclusive events, food, and in the case of the Gold members, autographs.
Gold and Captain's Chair tickets sold out quickly, and these attendees were led to believe that the tickets included admission to all of the con's programming. Needless to say then, when a 30th anniversary Star Trek: The Next Generation reunion was put on the schedule, it was expected that at least those attendees would be able to attend as part of their package.
Except not so much.
When tickets initially went on sale for the TNG Reunion Panel, attendees found that even for those premium ticket holders the panel would cost extra. In fact, if Gold level ticket holders want to sit in the same seats they have reserved for every other panel, it would cost them $125 in additional fees. You can probably guess what the fan reaction has been:
@gates_mcfadden Top tiers of fans already paid over $900 for their front-row seats but wont keep them for the TNG panel now. Robbery!

— Amy, Shoes&Starships (@lightstar1013) April 20, 2017
The gentrification of #startrek cons. Pricing the average fan out of participation #stlv #$TLV @CreationEnt

— Starfleetmom (@starfleetmom) April 20, 2017
@ChristianBobak @BakerPatrickJ @mjsminkey @gates_mcfadden @CreationEnt It's new for the TNG panel this year. Claimin gold is only a "daytime" ticket. Conveniently ignoring the nighttime things included #STLV17

— Ferry Teunisse (@lvttl) April 20, 2017
@CreationEnt TOO BAD YOU CARE MORE ABOUT MONEY THAN FANS. Charging extra to see the TNG panel? You're terrible people. pic.twitter.com/8K0jdeHEKu

— Nichole K (@niknicholenikki) April 20, 2017
Sick to my stomach over all the money I've already spent for STLV. Now they want $750 for TNG cast photo and $125 for TNG panel? 😢

— Sam (@MsSamanthaViner) April 20, 2017
@gates_mcfadden Yup Vegas. Ticket is to have the SAME seat for ALL panels, now finding out they don't get to see the TNG group panel without paying more.

— Mary Jo Sminkey (@mjsminkey) April 20, 2017
@lvttl @gates_mcfadden @CreationEnt good 2 know. I've seen the TNG panel no extra $ at #STLV before.Main reason I was going to go this year w/ a friend who's never been. Bummer

— Lwaxana Troi 🖖🏽 (@ihearttrumpet) April 20, 2017
There's also quite a bit on some of the Facebook groups dedicated to the event, but as those aren't publicly visible we didn't want to repost their contents.
When fans complained to Creation Entertainment about this ridiculous additional cost, they apparently didn't get the greatest response:
@thejonconn It was a copy and paste hot mess telling me to 'deal with it' when I've been attending their conventions for 30 years… ugh.

— Bree 🛎🔑Boehlke (@BreeElizabeth) April 20, 2017
Honestly, this whole thing is sort of nuts. After spending almost a grand on admission to an event, to be later told that it doesn't include one of the biggest selling points for the convention is just ludicrous. Since the initial outcry began, Creation Entertainment has temporarily disable ticket sales for the panel, and hopefully that's a good sign.
I wouldn't hold my breath though.
We reached out to Creation Entertainment while writing this story, but have yet to receive a response.
Update: Creation Entertainment has tweeted out an updated policy: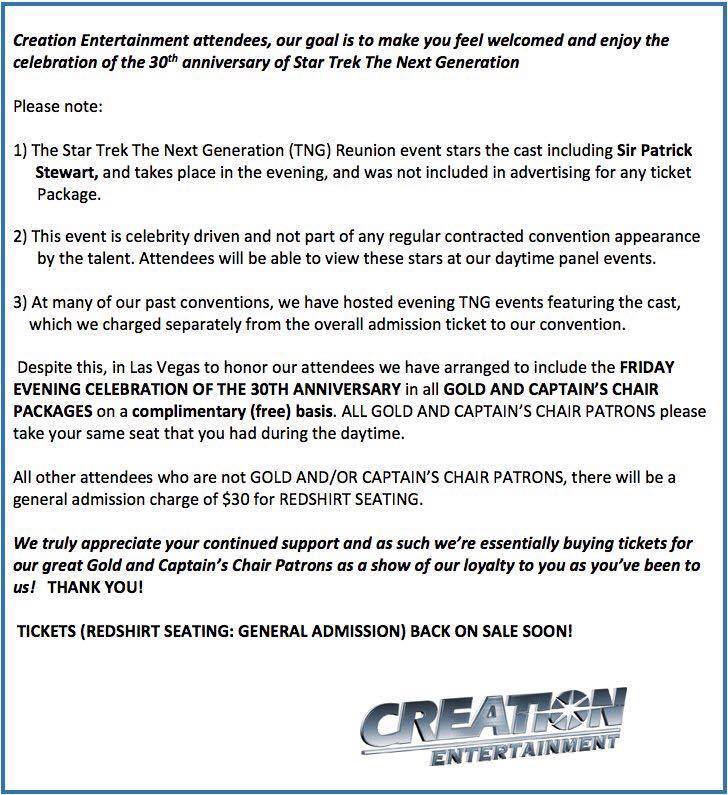 While this means Gold and Captain's Chair ticket purchasers will get in to the panel for no additional charge, Copper ticket buyers and others will still have to pay for the additional ticket.