ColossalCon Staffer Says Panels on Diversity Would Be More Appropriate for 'DashCon'
So Sandusky, OH based ColossalCon, like most conventions, is heavily reliant on attendee submissions for panels. These submissions usually outnumber the amount of timeslots allotted by the convention, so each convention has their own process on how they accept, waitlist, or reject the panels that come in.
Cosplayer Indigo Carr was one of the many people who submitted this year, but disappointingly found out her "Cosplaying While Black" panel had been rejected. She expressed this disappointment in a Facebook post on Sunday, which subsequently got shared to the official ColossalCon Facebook group.
And that's when a ColossalCon staffer decided to write what was one of the most bone-headed, weirdest replies you can imagine. In a comment, using the official ColossalCon account, a staffer posted the following:
DashCon, for the five of you who haven't heard the tale, was the notorious Tumblr-themed (but not affiliated) disaster con held back in 2014. We won't rehash the whole thing, but you can read our
DashCon tag
if you need the recap.
So, to say that response was dismissive, if not offensive and hostile, would be an understatement.
In a turn of events that should surprise no one, people have gotten pretty angry with ColossalCon's response. What was even more bizarre was a pair of "apologies" the con then put out on social media which didn't exactly help.
We understand that this apology will not make up for the hurt created. But we wanted to start here. pic.twitter.com/lLMfPfATEW

— ColossalCon (@ColossalCon) April 23, 2019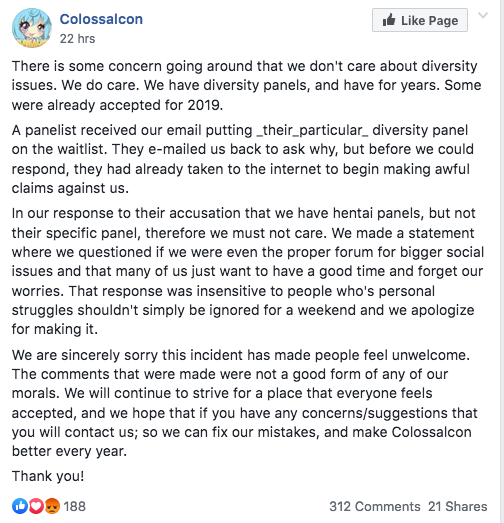 So, if we boil this down, they were concerned a panel about black cosplayers would create "exclusivity" and tried to defend their bizarre, dismissive comments. People, obviously, were not really seeing this as sincere or meaningful.
Thankfully, someone at ColossalCon with an ounce of professionalism finally took notice, and a third statement was issued by the event: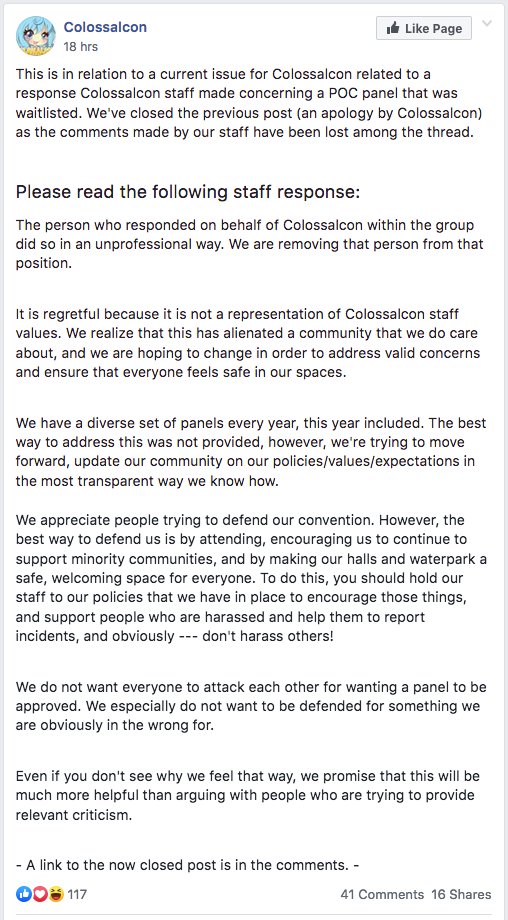 While this may end up satisfying some people, it is a little concerning that the staff has only seemingly removed the original commenter from making public statements. They still are working for ColossalCon's staff, and how that reflects on the organization's culture isn't exactly the best.
We will continue to follow this story if anything else develops.