It Came From the 80s Weekend Erases All Social Media in Wake of Scam Accusations
You'd be forgiven if you've never heard of Scottsdale, AZ based It Came From the 80s Weekend. Announced in September for a March 13-15, 2020 date, you'd think the con would be in high gear promoting itself right now, but the convention currently seems to have absolutely no social media presence anywhere on the internet.
But this is just because they've deleted all of it.
If you're confused, it's understandable. This is not normal behavior for any convention. Our story starts a week ago, when we were pointed to a Facebook post by the page 8-Bit Zombie which alleged that the event was being run by O'Neal Pignani, and that the event was a "massive scam."
Researching O'Neal Pignani, we found various accounts
going back to 2013
accusing
him of not paying contracted artists
. While we have not verified any of these claims, we
have
confirmed that Pignani is the primary person behind "It Came From the 80s Weekend" and the magazine associated with it.
What initially piqued my interest though was that the convention, supposedly happening in Spring of 2020, didn't have an announced venue yet. Guests names were being listed on the convention website, yet the only location listed is just the city. It was setting off pretty much every red flag you could think of.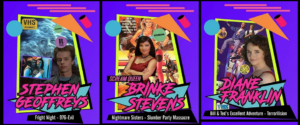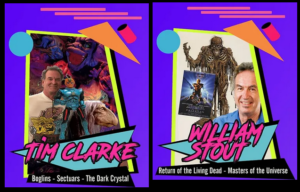 Another interesting problem is the convention's website itself. While I can type in "ItCameFromThe80s.com" into my browser, and we've confirmed it's indexed by google, searching for the name doesn't seem to bring up the site. We only found it because it was listed on the now deleted Facebook page and event.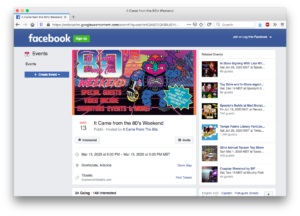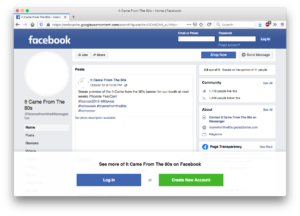 With all of this building, we reached out to It Came From the 80s on Friday November 8th via their now defunct Facebook page. We asked about Pignani's past and about the venue. According to Facebook's read receipts, our message was read on Sunday at 4:17pm.
By Monday morning the Facebook page was deleted.
While we can't speak to the motivations behind It Came From the 80s or Pignani, this certainly doesn't look like a convention I'd risk putting money into. With no venue, no social media, and a website literally almost impossible to find, it's safe to assume that this is not an event that's actually going to happen.
If it does, I will be incredibly surprised.