Who are we. Why are we here.  Why have we filled your car with Jello.
You may be wondering all of these things and more (or less – you may be quite certain why we filled your car with Jello).
Nerd & Tie is a site brought to you by the letter N, the number 3 and the letter 7.  Hosted by Trae Dorn, Nick Izumi and Gen Prock, it intends to delve into the nerdy world around us. Started initially as a fortnightly podcast in August of 2013, in June of 2014 Nerd & Tie expanded to the "Mega-Blog" — because we have more to talk about than what fits into a podcast every other Sunday. Gen Prock replaced Pher Sturz, who also co-hosted the podcast and contributed to the site until the end of December 2016.
Nerd & Tie covers anything and everything remotely nerdy, along with the Midwestern, National and International convention scenes and community. We also occasionally do live shows of the podcast at cons, so keep a lookout.
We're pretty awesome.
Your Affable Podcast Hosts:
Gen Prock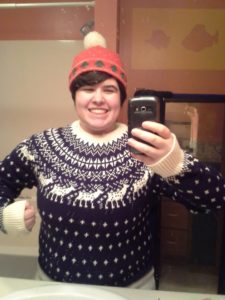 Gen Prock is the newest member of the team, joining Nick and Trae in January of 2017. Gen has a long history in the convention scene, having been a long time staffer of No Brand Con as well as selling her art at events under her studio name "Ocelotdude Designs."
She made it very clear to us that we should mention her love of sweaters, ice cream and ocelots. She also made it clear that we should not allege that she sneaks off into the night in a cape and cowl, fighting crime in a city that society has failed. Gen says that is totally not a thing that is happening, and that we should stop running up to strangers on the street declaring "THERE GOES THE DARK GUARDIAN OF OUR CITY!" while pointing at her.
You can find her work for sale on her Etsy and Society 6 stores.
---
Nick Izumi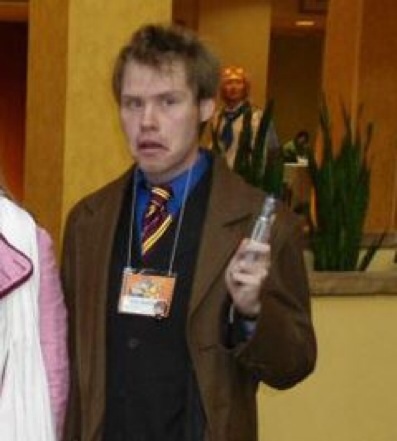 Nick Izumi is, for all intents and purposes, a human being.  We've checked repeatedly, and he continues to assure us this is true.  Nick is the cofounder of the Wisconsin Anime Convention "Daisho Con," and occasionally smells like flour and memories of your forgotten youth.
He also created and stars in a (poorly) animated series of reviews on youtube which you can find here. If you CAN'T find them there, well, you're clicking wrong. Nick also hosts a number of panels at conventions, including his talk show "Talk-oyaki with Nick Izumi" as a part of Takoyaki Entertainment.
---
Trae Dorn (Producer)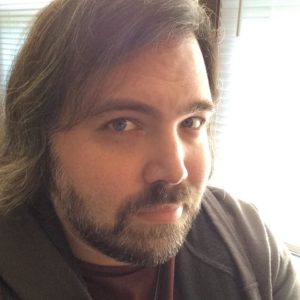 Trae is the tallest of the hosts, and he is certain it's because he is the oldest.  This is (at the very least) why he is the baldest.  Trae co-founded Wisconsin's longest running Anime convention No Brand Con and refuses to apologize for it.
Which he probably should.
Trae also writes the webcomics UnCONventional and The Chronicles of Crosarth, which leads many to ask when the hell he has time to actually do anything anymore. He says he has time because he "does it all quite poorly."
Trae also pays all the bills around here, so please be nice to Trae.
---
Other Frequently Asked Questions:
Q. What are the opening and ending songs you use on the podcast?
A. The opening song is a portion of "SKY ROBOT 2.0" written and performed by Trae (under the pseudonym "Lt. Snorkel"). The end theme is an arrangement by Trae of Vomit Hat Steve's "Cloud Burst" performed by Trae (although the full track features Vomit Hat Steve on lead vocals). Cloud Burst is a song Steve wrote for "Harry Potter and I MUST SCREAM" – a Harry Potter Fanfic Rock Opera heavily influenced by the Harlan Ellison story "I have no mouth, and I must scream."
Yes, you read that correctly.
You can download both tracks – SKY ROBOT 2.0, Cloud Burst
Q. What equipment do you use?
A. Our equipment list is constantly evolving, so what we use in each episode doesn't always match the one before it. This is what we're using right now though at least.
Trae produces the show on a MacBook Pro and a nondescript HP laptop. Skype runs on the HP laptop, feeding its audio to a Behringer XENYX QX1202USB mixer. The audio is then recorded with a Tascam DR-40. The mixer also feeds audio via USB to the MacBook Pro, which also uses a capture device to get the video from the other laptop's Skype feed. That audio, the captured video, video from Trae's camera, and onscreen graphics are brought together using CamTwist and fed to the UStream Producer software for the livefeed and video versions.
Trae has gone through a pile of microphones, but since fall of 2014 he's primarily used an Audio-Technica ATR2100-USB. It's a good mic. You should get one.
Nick currently uses a Blue Snowball microphone. Previously he used a Pyle Pro PDMIC58 microphone connected to an iPad 2 (which is why he used to not be on video). Before that we think he rigged up a system with bailing twine, sugar and glue for one episode.
Gen uses… something? We've never asked her what model her microphone is. We probably should.
For live shows, right now we're just trying out a system where we take the DR-40 recorder to conventions and use its built in mics. It's an experiment.
Q. Where are you guys based?
A. Right now, the answer is "Wisconsin." Nick is in Janesville, Gen in Plover, and Trae lives in Eau Claire. For years Trae lived in Lafayette, IN. Trae describes Indiana as "Like Wisconsin, but 15% worse," and is very happy to be back.
Q. I heard you guys had a convention?
A. We did! With the help of some of our friends, the Nerd & Tie Expo took place September 23-25, 2016 in to Eau Claire, WI. Unfortunately due to a litany of issues (including the venue getting torn down) we didn't schedule a second one. Will we run another one? We haven't decided yet.
Q. I have a question you didn't answer!
A. Then hop on over to the contact page and ask it.