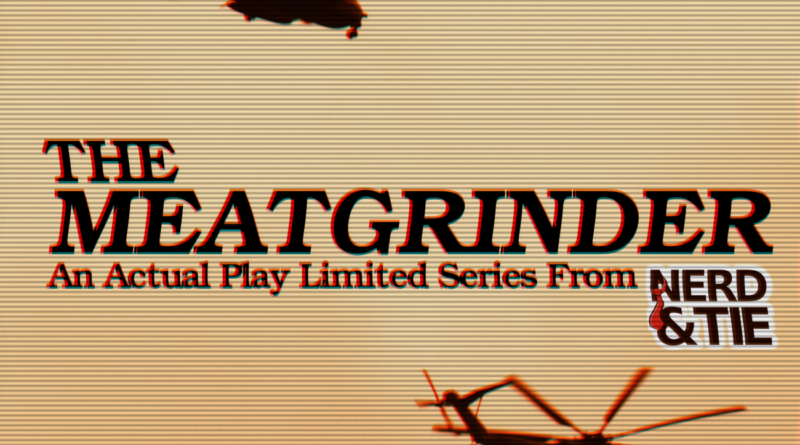 Five days ago the town of Halcyon went dark. A small town in Williams, in the Western United States of Aremesia, the radiating magic levels are off the chart. With the only roads into this isolated mountain town closed, accessible only by small helicopters, an elite government team of operatives has been dispatched to control and contain the situation. And then, after those guys all got killed, they sent in these people.
Welcome to The Meatgrinder.
The Meatgrinder is a nine episode Actual Play limited series set in the same world as Stormwood & Associates — one that's largely like our own, except humans are joined by elves, dwarves, goblins, orcs, and halflings — and magic is very real.
The Meatgrinder uses the "Super Awesome Action Heroes" role playing system.
Hosts: Trae Dorn, Nick Izumi, Gen Prock, Kyle Johnson, Crysta Colangelo, and Scott Logan
Coming February 2021
[ Full Archives ]
Subscription Options:
Setting
The Meatgrinder takes place in a world that's not unlike our own. About 60% of what you know about world history is exactly the same, and the other 40% is similar enough where you probably already know the broad strokes. The main difference? Probably all the magic, though the practice of it (at least in the United States of Aremesia) is highly regulated through the issuing of Federal Magic Licenses. Beyond that, the world is also inhabited by not just humans, but also elves, dwarves, orcs, goblins and halflings. Halcyon, Williams is a town in the Rocky Mountains, with a population just under 2,500 people. Isolated in a Box Canyon, getting in and out of Halcyon is difficult — and things have only gotten worse.
The United States of Aremesia