Ryan Kopf Helping Run Anime Kaiju, Taiga Con under "Black Materia Inc." brand
Update: It appears the list of Black Materia, Inc cons also includes Star City Anime in Roanoke, VA
Update #2: We now know a lot more about Black Materia Inc, and how some of Ryan Kopf's business practices might be illegal.
Ryan Kopf isn't a stranger to controversy. Even the tamest news about his events tends to be negative… and well… then there's this. Needless to say, a google search for his name doesn't bring up the most positive of results.
With such massive PR issues, you can understand why Ryan (and his company Chrono, LC) might want to be careful when entering new markets. That is likely the reason then that as he's starting two new events, Anime Kaiju (Nashville, TN) and Taiga Con (Atlanta, GA), Kopf has decided to not operate under his better known AnimeCon.org name and instead a new brand: Black Materia, Inc.
You actually wouldn't know by looking at the Black Materia, Inc website that Ryan Kopf has anything to do with the events. In fact, his name appears nowhere on the sites for the two conventions nor on the Black Materia, Inc website as far as I can tell. Where it does appear though is on the Whois record for the BlackMateria.org domain name: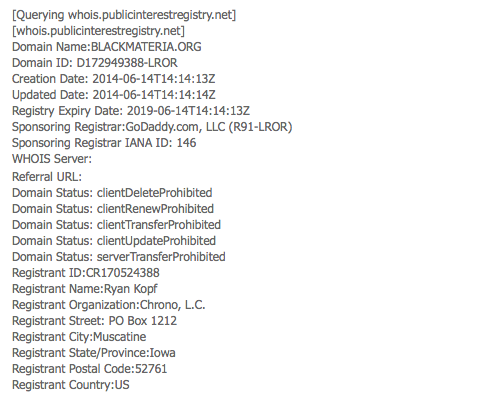 This brings up the question: Why the name "Black Materia, Inc?"
While it's not a terrible name, the inclusion of "Inc" in the name Chrono, LC is doing business as seems deceptive (or at the very least confusing). "Inc" (short for incorporated) is usually part of a company's legal name. For example, "IJustMadeThisUpCon" might be operated by the corporation "IJustMadeThisUp, Inc."
When creating a brand the corporation operates under though, usually you wouldn't bother using that (like the name Chrono, LC name they normally operate as "AnimeCon.org"). It's entirely plausible that Black Materia, Inc is registered as a separate corporation, but it at the very least is not registered in the State of Iowa where Chrono, LC is registered (and Kopf resides). In any case, as Chrono, LC and Kopf are listed as the current owners of BlackMateria.org, Chrono, LC is in possession of Black Materia, Inc assets.
So… yeah. It's a bit odd.
To return to the original subject, am I surprised that Ryan Kopf has obscured his name as much as possible? Honestly, not really. He's become an infamous figure in the Midwestern convention scene, and it makes sense that he'd want to abandon the baggage his name and company generate when moving into a new region.
That said, convention attendees should be aware of the history of any company whose event they attend – and if you choose to attend these events, it's important to understand the history of the man and organization backing them. As attendees it is our responsibility to make sure we know exactly who we choose to give our money to.
Caveat Emptor.