An Animinneapolis and MetaCon (Ex)Staffer is a Convicted Predatory Sex Offender (Updated)
Update: AnimeCon.org staffer Cay Combs has posted a response to this article stating that they were until recently unaware of Goodew's history, and he has been banned from staffing their events.
Robert Goodew is a staffer for two (and department head for at least one) of Ryan Kopf's AnimeCon.org events. He was the head of viewing rooms for Animinneapolis 2014 and on his Facebook page lists himself as working in Operations for the upcoming 2014 MetaCon. On Facebook he "likes" the WWE, Jason David Frank, and the "Baconator."
More importantly though, Robert Goodew is a predatory sex offender who was convicted in 2010 for sexual conduct and contact with a 12 year old boy.

We received a tip about this last night, and even we were frankly shocked at the allegation. But unlike a lot of other stories we've had to cover in the con scene, this was a relatively simple one to confirm. Finding Robert Goodew's registry as a sex offender was a frankly simple process: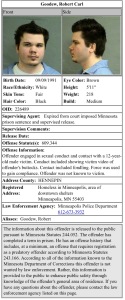 Likewise, establishing his being on Animinneapolis and MetaCon staff was easy as well. I first located
Goodew's Facebook page
.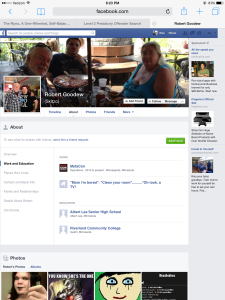 On the Facebook page I noticed one important detail, and that he listed his current occupation as "Operations at MetaCon." I don't know the exact details of his position at MetaCon, but this indicates at least some sort of department head most likely.
I also pulled up the Animinneapolis program guide, and located Goodew's name as head of Video Rooms at the 2014 event.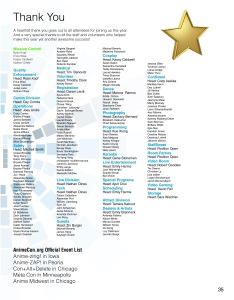 For quick reference:


There's not much else to say on the subject. Right now, AnimeCon.org's Minnesota events have a very dangerous man on their staff. Goodew is a Level 3 registered sex offender, and that particular category is the most likely to reoffend. Cons are supposed to be a safe haven, and as there are many younger, more vulnerable attendees (sometimes on their own for the first time at events like these) we need to be especially careful as to who we allow into the community.
And this isn't someone who should have been.
Update: Cay Combs, an AnimeCon.org staffer, posted the following to the Twin Cities Geeks facebook group:

As Combs has now updated this to say it's not an official statement by the organization, we are still awaiting any official comment from AnimeCon.org.