DC Licenses Sexist as Hell T-Shirts, Admits to Screwing Up
The Carnival of Sadness takes many forms. Sometimes its made of cotton! This one speaks for itself. Take a look at these officially licensed shirts.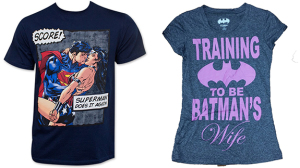 Score! Someone give Superman a fistbump for banging a feminist icon! And that other shirt is great for the ladies, because we all know the only thing a woman would aspire to be in a comic book world is a real hero's wife.
That hurt to type… There's been a lot of negativity directed at these shirts, especially the one on the left.  Surprisingly though, even DC doesn't seem to happy with these.
DC Comics is home to many of the greatest male and female Super Heroes in the world. All our fans are incredibly important to us, and we understand that the messages on certain t-shirts are offensive. We agree. Our company is committed to empowering boys and girls, men and women, through our characters and stories. Accordingly, we are taking a look at our licensing and product design process to ensure that all our consumer products reflect our core values and philosophy.
With any luck DC will learn not to sign off on T-shirts designed by frat boys.
via: Comic Book Resources