Paramount has Submitted Transformers: Age of Extinction to the Academy
In a move that can only be described as "Someone over at Paramount got really blitzed the other night", Paramount Pictures has submitted Transformers 4: Age of Extinction to the Academy of Motion Picture Arts & Sciences as a candidate for a Best Picture nomination.  Paramount, a movie studio that's been around long enough to be taken entirely seriously, submitted the blockbuster movie earlier this week. Not only have they asked it to be considered for best picture, but Michael "KABOOM" Bay has also been submitted as Best Director, an award won previously by Martin Scorcese, Francis Ford Coppola, and Steven Spielberg.  Several other technical aspects of the film were also submitted for consideration.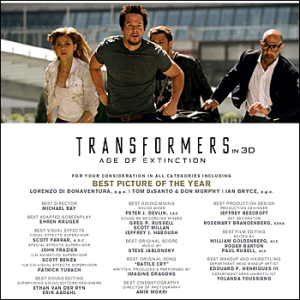 Just because Paramount decided to hit the submit button, however,  doesn't mean the Academy will allow it to be nominated. First, the application must get past whomever will look at said application, have a hearty laugh, and call everyone over because "hey guys look at what Paramount sent to us".
In other words, don't expect Michael Bay & company to get played off the stage during their explosion-filled Oscar acceptance speech anytime soon.