Falcon to Appear in 'Avengers: Age of Ultron'
Yesterday the official Avengers twitter account tweeted out the new poster for the forthcoming second film in the series. As a poster, it's not super surprising. There are a bunch of white dudes front and center (two of them named Chris), Black Widow is contorted in a weird position, and Samuel L. Jackson is put in the corner. I've embedded the tweet and image below:
Check out the official poster for @Marvel's #Avengers: #AgeOfUltron! pic.twitter.com/vqytiR3584

— The Avengers (@Avengers) February 24, 2015

One thing though that has jumped out to a lot of people is a tiny detail, barely discernible at this resolution. In the list of people involved with the film, a particular name is squeezed in: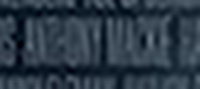 If you couldn't tell, that name is Anthony Mackie. Anthony Mackie, of course, is best known to Marvel fans as the actor who played Falcon in Captain America: The Winter Soldier. So Falcon may not end up an Avenger in this film, but it looks like he at least gets to show up.
And we here at Nerd & Tie think that's pretty cool.