YourMiniCon Still Owes Money To Artists and Guests For Cancelled Events [Updated]
What's happened with YourMiniCon in 2016 is, if anything at least, a cautionary tale of hubris. After running a successful Connecticut event, they decided to go on a massive expansion plan — announcing eleven more more conventions across the country.
But running twelve cons is a lot harder than running just one, and things soon fell apart. While the Connecticut event went off without a hitch again, before any of the new cons could take place, half of them were abruptly cancelled within weeks of their intended dates this January. This was followed by the cancellation of another four conventions in February. Finally, the last of the new eleven conventions was dropped off the calendar in March.
And they were exactly back where they started — only now they owed a lot of people money.
Initially, YourMiniCon promised that they would refund all attendees, artists and vendors for the event. While those refunds came for many, there are still a few people waiting for the promised money.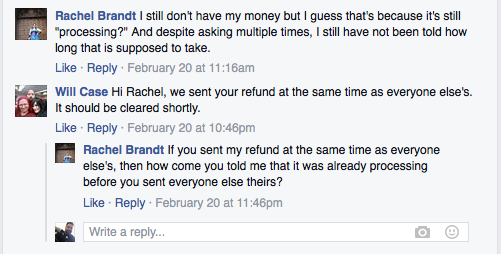 We were contacted by Rachel Brandt, who had originally bought an artist table for the cancelled Wisconsin show. Even though several months have passed, Brandt is still waiting for her refund. While YourMiniCon staff
promised repeatedly
that it was on its way in February, nothing has materialized. According to Brandt, she was initially told the money was "processing." When it never came, she was continually fed this line — and eventually the convention stopped answering her altogether. Even a public
Facebook review
doesn't seem to elicit a response from the organization anymore.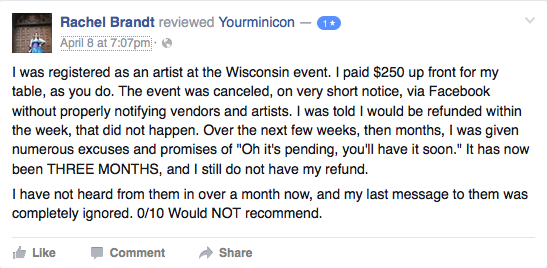 We also spoke to another artist who had purchased a table she planned to share with some friends at the cancelled Nevada show. She claims that just days before the event's cancellation YourMiniCon staff told her booth space was "running out." Of course, since then, it came out that her table was in fact
the only one sold
for the
entire convention
.
She told us that after the convention's cancellation, she received no further contact from YourMiniCon. Her emails to the organization have gone unanswered, despite YourMiniCon's Will Case assuring us over Skype back in February that everyone would be refunded for the Nevada show.
It's not just artists who are still owed money though.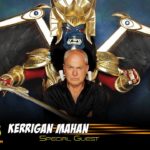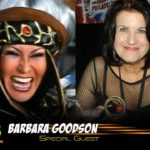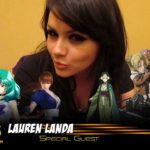 What may be a bigger issue is that YourMiniCon still owes money to several of the booked guests for the cancelled events. We spoke to a representative for Kerrigan Mahan, Barbara Goodson, Lauren Landa, Jessica Cavanagh, Alexis Tipton, and Josh Grelle while researching this story, and apparently all six of them are still owed deposits for the Wisconsin and Atlanta shows that have yet to be paid. Again, in what is now a familiar story, YourMiniCon has not answered attempts to resolve this situation.
Honestly, the entire thing is kind of a mess. Not paying your bills, especially the contractually required ones to talent, can pretty much kill an organization. As YourMiniCon seems determined to continue its Connecticut show, I honestly can't see a lot of guests being willing to work with an organization with a reputation for not fulfilling its obligations.
We reached out to YourMiniCon for comment regarding this article, but (unsurprisingly) we have yet to receive a response.
Update 4/15: This morning YourMiniCon sent us the following response:
[T]he representative for the guests would like all payments made to his personal PayPal account, and we would like to confirm with the guests themselves over phone if that is what they prefer. The representative has been hesitant to let us pay the guests directly or discuss anything with them outside of through him.

As far as the artists whom are still waiting on refunds, there are still a few left from our events. We are processing out refunds as we have funds available, but it will take time to get everyone taken care of.
This response regarding the guests is, if anything, puzzling. Normally if a guest works through an agent, they don't really want to be contacted through any other method. The fact that a paypal account is preferred really shouldn't enter into it.
As for the artist portion of the response, I'm not surprised as it is the same thing they've been saying for a while.