Sukoshi Con Cancels All Future Cons Including Louisville Anime Weekend
Sukoshi Con's "Louisville Anime Weekend" was originally scheduled for July 29th-31st at the Ramada Plaza Louisville Hotel and Conference Center in Louisville, KY. With less than a month to go before the convention though, on Tuesday Sukoshi Con deleted their Facebook pages, pulled down their websites, and announced via Twitter that the event (and all future Sukoshi Con events) were cancelled.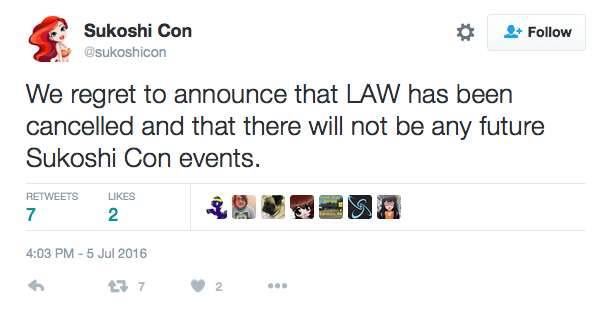 For the most part things have been silent from the organization since then, but here's where things get strange.
As I said, initially the websites for Sukoshi Con and Louisville Anime Weekend disappeared into the ether on Tuesday. Weirdly though, both have now reappeared as of this morning. Even stranger, at the time we're writing this, the official website for Louisville Anime Weekend is still accepting preregistration with no visible indication that the convention has been cancelled.
This is likely a technical oversight, but it's concerning that a casual visitor to their webpage might mistake the convention for an active one.
It's been a strange year and a half for James Carroll's Sukoshi Con. Some of you may remember the weird saga of their Anime Southwest convention (in Denver oddly enough), where the con had to relocate hotels, multiple guests cancelled, and drama abounded — but that's just the tip of the iceberg. In the last year and a half, the organization has cancelled four of their eleven planned events — including last years Louisville Anime Weekend.
We've heard rumblings of financial issues within the convention, though they have yet to be confirmed. It's safe to say though that none of Sukoshi Con's events are likely to come back.
We reached out to Sukoshi Con organizer James Carroll via Facebook message for comment, but have not yet received a response.