Rewind Con Was Apparently a Total Mess
So Rewind Con held their first convention in Chicago last weekend, and it was not exactly the success its organizers had hoped for. In fact, from all accounts, it was kind of a mess.
We've been following this con behind the scenes for quite some time, mostly because they rescheduled the even from September to November earlier this year. The schedule change was due to a switch in venues, and originally they put out a statement which directly stated that it was because the convention had grown too much — although they would later take that back and put out a slightly more vague one blaming "multiple factors with the original venue."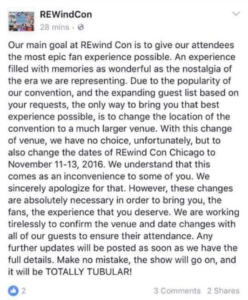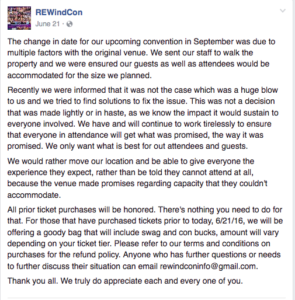 Original Statement on Left, Updated Statement on Right
That second statement matches closely to the one we received from Katz Public Relations on behalf of Rewind Con back in June (we were asking if preregistered attendees would get refunds at the time). But while the con's staff seemed to be pointing at venue size, the ongoing rumors surrounding the con have been that they were unable to pay their original hotel. We haven't been able to confirm that, though it wouldn't be the first time a convention moved because they couldn't pay their bill. In any case, size doesn't seem to have
actually
been a factor in Rewind Con's move.
You see, barely anyone showed up to the thing.
We don't have exact figures, but people present have estimated numbers anywhere between one and three thousand attendees. And while any of those would be a respectable number for a first year convention, when you consider Rewind Con had between fifty and sixty guests (most of whom likely asked for pretty sizable guarantees) this event must have been a massive financial disaster. The only way the organizers could have paid those guarantees is if the money came directly out of owner Jaymie Lashaway's pocket.
We've also seen reports of people who paid for the $300 VIP Passes not receiving what was promised, tons of reports of staff mismanagement, issues with paid photo ops, and a complete inability to put on a good show. Honestly, I could keep going for quite some time, but there's a thread in the "Rate that Comic Con" Facebook group which pretty much says all you need to know.
Right now Rewind Con has announced shows in Dallas, TX (March 2017), Atlanta, GA (May 2017), New York, NY (July 2017), St. Louis, MO (July 2017), and Orlando, FL (January 2018). Honestly though, considering the complete and utter failure of their first event, I'd be surprised if any of those shows ever end up happening.