New Jersey's 'Anime Fan Fest' 2017 Has Been Cancelled, Is Apparently a 'Major Bummer'
Well, mark another con in the cancellation file. Otaku Magazine's Anime Fan Fest was originally scheduled for April 22-23, 2017 at the Garden State Exhibit Center in Somerset, NJ. Unfortunately for fans in the area, this is no longer true.
The Anime Fan Fest official Facebook page posted the following earlier today: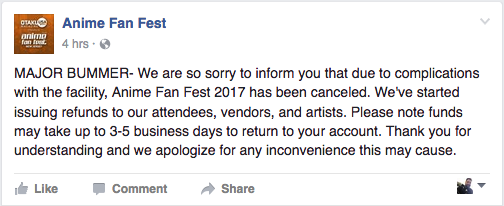 No reasons were given for the event's cancellation beyond "complications with the facility," though we can speculate it's likely for the normal reasons any con cancels — no one is buying. Frankly, we've heard reports of sub par experiences from their 2016 event, so there's been a distinct lack of surprise. The event organizers did go on to say in the comments that they were unsure of their plans for the con in 2018 as well.
None of this seems to have affected Anime Fan Fest Baltimore, which is still scheduled to take place this June, though when an organization starts cancelling events less than seven weeks before their dates, they don't exactly look stable.