Angry Goat Productions Has Canceled 'Outlander Live' and (Probably) 'LA Moonfest'
We've talked a lot about the ongoing drama surrounding Angry Goat Productions' Sailor Moon themed event originally scheduled to take place in Los Angeles this weekend. First we looked into accusations on social media that the event was a scam. What we discovered was Angry Goat Productions and its owner Ray Jelley have a reputation for scheduling events and then canceling them. Then all signs pointed towards the Sailor Moon events getting canceled, only to have Angry Goat Productions turn around and relaunch the festivities at an insane price tag.
It's been kind of crazy.
On the sidelines to all of this has been an Outlander themed event, called "Outlander Live," which we've only touched on occasionally. Mostly it got ignored in our reporting because the Sailor Moon half of the coin was just so insanely weird. Well, maybe we should have dug more into it more, because it seems to have fallen to the same fate that all Angry Goat Productions events do — "Outlander Live" has now been canceled.
And, of course, LA Moonfest (probably) has been as well.
You'd be forgiven for assuming these events were still on, as they're both prominently listed on Angry Goat Productions' website at the moment. In fact, according to people we've talked to, Outlander Live was cancelled over a month ago with nary a peep from the company. One person who reached out to us has apparently been trying to get a refund for the event since early April, though she has found little success going through the prescribed process. We've been told that individuals have started to resort to contacting their financial institutions directly.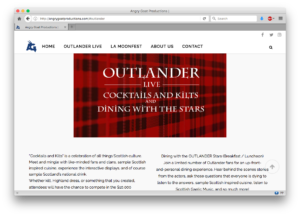 When asked why the events are still listed on the website, the response ticket purchasers have been given is that Angry Goat Productions hopes to reschedule Outlander Live. While that would be considerable justification for continuing to list the event on the site as a future project, the fact that the company refuses to publicly acknowledge that the initial event got canceled is just baffling.
All of this, of course, comes second hand. Over the last few weeks we've repeatedly tried to reach out to Angry Goat Productions about their May events, but have received no response to our emails and Facebook messages.
That's why we're pretty much just assuming that LA Moonfest isn't happening. Ticket sales were suspended last month for the event, but we weren't sure if it was because the event wasn't happening or if it was due to pre-sales just being closed. Clicking on the link to buy tickets now tells you that they aren't going on sale until June 4th though. That seems odd since even that page still lists the even as taking place May 13th and 14th.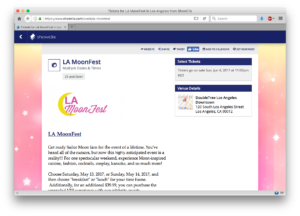 I honestly wish I was capable of being surprised by any of this. The LA Moonfest (probable) cancellation could be easily seen a mile off. It was an outrageously expensive event for a fandom accustomed to spending a fraction of the price for the same guest related perks, and I seriously doubt Angry Goat Productions had sold any tickets to it.
On the other hand, Outlander Live was focused on an audience that expects to pay a slightly higher price for fandom events, so some actual sales were finally made by the company. I'm honestly not sure, considering how pricey their prior canceled events were, that this has actually happened before. Now those people are going to want refunds, and the way the demographics skew in the Outlander fandom, these are folks who can make life a lot more difficult if the money doesn't materialize.
Angry Goat Productions should take note and start making things right.