Anime Punch Disbands After Con Chair Michael Beuerlein Pleads Guilty to Sexual Battery
Columbus, OH based convention Anime Punch has been disbanded and will no longer hold any more events. The convention staff announced that they would be ceasing all future operations on in a statement on their official Facebook page on September 14th: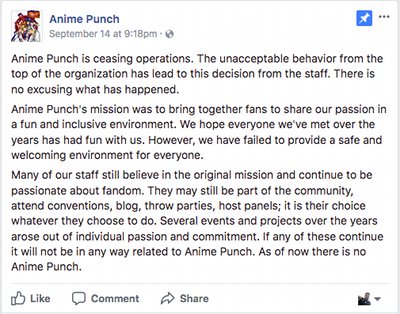 This is in the wake of convention chair Michael Beuerlein pleading guilty to Sexual Battery in the state of Virgina on September 5th. A misdemeanor, Beuerlein is currently currently out on parole. He has also been
required to register as a sex offender
.
It's always terrifying to find out someone like this is running around the con scene. For what it's worth, not many seem surprised about Beuerlein, as at least this rather lengthy Facebook thread seems to detail a number of other alleged incidents involving Beuerlein. Whether those other allegations are true or not, he sure seems like a person you wouldn't want to let into your con, let alone operate an event