Steampunk World's Fair Cancelled… Sort Of. Mostly. This is Confusing. (Updated)
The annual steampunk convention Steampunk World's Fair has apparently cancelled their 2018 event scheduled for May 4th-6th… sort of? I mean, if you show up to their venue that weekend, apparently something will be happening, but nothing to the scale of what attendees would expect. That smaller event won't be called the Steampunk World's Fair either.
Even if it is technically fulfilling the Steampunk World's Fair's contract with the venue.
If you're lost, I'm not exactly surprised. The drama and mess surrounding this event has been pretty extensive as of late. On February 20th, Silver Phoenix Society announced that they were taking over the event from the show's original organizer Jeff Mach. This was in the wake of several allegations of sexual misconduct made against Mach a month prior.
But this transfer of ownership didn't exactly go as planned.
Yesterday, Silver Phoenix Society announced the cancellation of the Steampunk World's Fair. In a their official statement they listed some of their reasons for the cancellation:
In addition to the ethical reasons for this decision, the contracts for the hotels were never transferred into our name, which we needed to happen in order to continue in any case.

There is not enough time to execute this event the way it is needed, but that does not mean that we are abandoning the vendors, patrons and performers who have been left in the lurch financially. We intend to help in any way we can, first and foremost by planning and launching a fully realized, new event in the fall of 2018, to be called the Silver Clockwork Exposition and Symposium.
They also mentioned that they would be willing to refund any tickets or vendors fees paid to their organization, though they stated that they would not issue any refunds for fees paid to the event's previous organizer Jeff Mach.
Which would probably mean most people can't get refunds through them? I mean, Silver Phoenix Society has only been in control of the event for less than a month. I can't imagine that they've taken most of the money paid towards the con.
This would be a fairly typical "cancelled con" story if it ended there, but it doesn't.
Yesterday on Talk of the Tavern's Twitch.TV stream, the Silver Phoenix Society's Michael Whitehouse stated that people should wait 72 hours before cancelling hotel rooms. Former owner Jeff Mach, who apparently still has the contracts under his name, also asked people not cancel for 72 hours yesterday: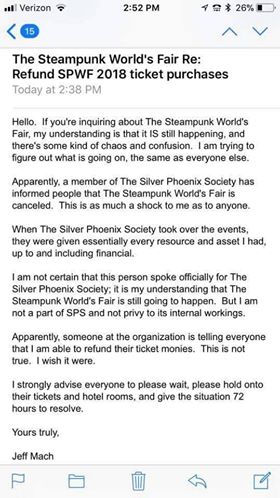 The Steampunk World's Fair also modified their official announcement to include that they would be putting together a smaller scale event, while reiterating the 72 hour timeframe:
When we made this announcement, the idea was floated to us of running a vendor bazaar by the name of End of the World Fair at the SPWF hotel. It would be a much simpler event than SPWF, but will still allow our vendors and community come together for some Steampunk fun. Vendors will get an email with information shortly, and we ask you to give us about 72 hours to figure out if the community can work out the details.
Now, that's a really specific window (that at press time still has two days remaining), and it made several people kind of iffy. There may be good reason to be uncomfortable though, as Arthur Geissler pointed out on his Facebook page:
According to the sales departments of the hotels, attendees have only 72 hours from now to cancel their reservations. What does this mean? It means that past that point, those who booked may still be liable for at least a single night's stay. I believe the rationale is that the hotels may have a 45-day cut-off.

Edit: it has been confirmed that any deposits will be lost if one does not cancel their reservation in this time period.
If this is true, and it's not a leap to believe it is, it means that if you are someone who bought a hotel room for the event you should cancel it immediately if you do not intend to attend the smaller event that will be held in the space.
The main reason an event would want you to delay the cancellation is because often convention hotel contracts require a certain number of rooms be booked or the organizers will be charged for the space. By preventing people from cancelling, they are putting the costs of the cancelled event on the attendees. It's also concerning that one of the listed reasons for the cancellation of Steampunk World's Fair is that the contract with the hotel is still in Jeff Mach's name.
That means that whatever event is held in the space is done under this same contract.
So needless to say there are layers to this mess that are impossible to unpack. My advice remains that if you won't be attending the small scale event but you have a room booked, cancel immediately. If you are planning on attending the smaller event, please consider who exactly you'll be supporting if you do.
---
Update 3/16 4:30pm CDT: Arthur Geissler has made another post providing additional information on the situation. You should read the entire thing, but importantly he mentions that the window is closing on hotel room cancellations:
According to the sales office at the Embassy, there are roughly 24 hours remaining to request a refund of your deposit. After that, chances are that your room deposit may be forfeit if you choose not to attend the now dubbed "End of the World's Fair".
---
Update 3/18 8:45am CDT: It has been confirmed by the Silver Phoenix Society that the replacement event is in fact being run by Jeff Mach. Despsite what their previous comments suggested, they are now saying that they have no involvement with whatever event takes place that weekend. As they posted in a comment on Facebook:
…We're not running an event. We don't know what's going on because we withdrew from everything having to do with Jeff Mach and Jeff Mach Events. We listened to what the community had to say. We had heard rumors that someone was doing something but we never heard anything more than that. I apologise that we mislead you to think that SPS was doing something. We were not.
So this is exactly what we had assumed was happening the instant the "replacement event" was announced — though it is a bit funny to watch Silver Phoenix Society walk back having said they "found someone' to run a replacement event to it being "just rumors." I really don't think anyone is buying that attempt to retcon reality.