A.g.S Con Announces Cancellation of 2019 Event — Then Weirdly Deletes All Social Media
We end up covering a lot of con cancellations here at Nerd & Tie, but this is probably one of the stranger ones. A.g.S Con, an anime convention in Mobile, AL, apparently announced that their 2019 event (scheduled for August 24th and 25th) has been cancelled.
I say "apparently" because damned if you could find any official notice of this for a while.
An announcement appears to have gone out on their Facebook page several days ago. In this first post they seemed to promise refunds, and said that people should contact them if they wanted to defer their purchases until 2020.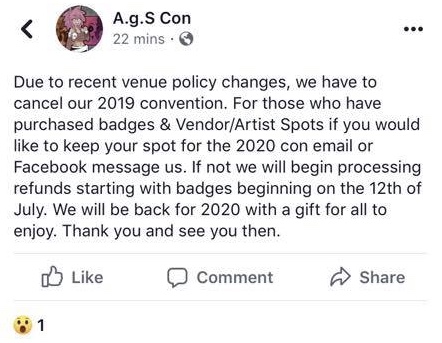 This messaging changed earlier today, July 2nd, when a new post went out on their Facebook page. In this post the con now asked people wanting refunds to send an email including proof of purchase as an attachment.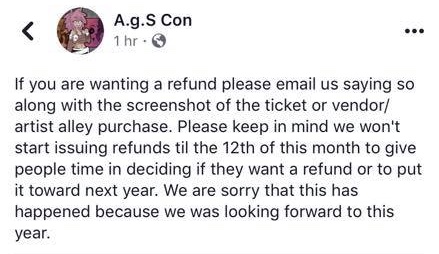 Now, this seems straight forward, right up until you realize that the Facebook page didn't list an email address and that the contact form on their website doesn't accept attachments.
Needless to say, this caused an issue for people trying to get their money back.
And if the story ended here, it'd still be a pretty odd one — but it doesn't. You see after some backlash, A.g.S Con then deleted their Facebook page? Yeah, it's just gone. Heck, the only reason we know these posts were made in the first place is because artist OnigiriArtposted screenshots of the con's posts to Facebook. Honestly, this whole thing is just bizarre.
This story was about to go to press when the convention finally posted the following announcement to their website:
A.g.S Con has been cancelled for 2019. We are sorry that a few people had to go through what they went through on our Facebook page. WE ARE giving out refunds so please ignore the post and we will personally give everyone an apology and we took care of the person who caused the trouble.
We also reached out to the con asking if refunds would be forthcoming (and trying to confirm the cancellation). The organization responded with the following:
Yes our website has it saying we have cancelled and if that isn't enough then the hotel we was going to have it at know we had cancelled. Feel free to call them if you wish
So… yeah. That's certainly a way to cap this one off.
Update (7/3): This afternoon we received a second email from the convention as well regarding refunds. Like the previous one, it is fairly brief:
Yes we are cancelling our 2019 and have contacted all vendors and attendees who have made purchases with the refund information.