J.G. Hertzler Calls Out NE Trek Con Organizer Over Mistreatment of Late Aron Eisenberg
Star Trek fandom as a whole was saddened to hear of the passing of Deep Space Nine actor Aron Eisenberg a few days ago. Many of us took to social media to express how much the actor had meant to the fandom as word spread across Facebook and Twitter. Jerry Silber, organizer of Northeast Trek Con in Albany, NY, posted the following to Facebook as well: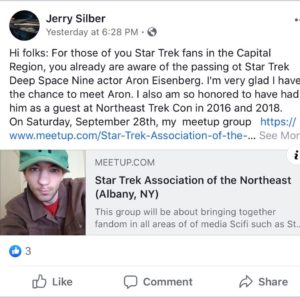 Unlike most fan remembrances, this particular one did not sit well with a lot of people. It particularly angered Eisenberg's fellow
Deep Space Nine
castmate J.G. Hertzler — apparently with good reason.
Hertzler made the following post to Facebook in response:

In the post Hertzler alleges that at NE Trek Con Silber wrote bad checks to a number of actors including both himself and the late Eisenberg. To get paid, Hertzler had to take Silber to small claims court. As New York requires parties to be physically present to file suit, Eisenberg had apparently been planning to travel to the state in November to take legal action against Silber as well.
You can understand why Hertzler, a friend of Eisenberg's, might find Silber's post offensive.
We tried to reach out to Silber via Facebook for comment while writing this story, but have yet to receive a response. It should be noted that Silber has since deleted (or at least privated) the social media post about Eisenberg. We don't know if it's related, but the social media for NE Trek Con also seems to be deleted, and the website shut down.
In the comments of Hertzler's post, fellow Deep Space Nine actor Chase Masterson stated she would contact the library hosting Silber's advertised Meetup, and ask the distributor of Deep Space Nine documentary What We Left Behind to cancel any screening there.
For those interested, a GoFundMe campaign has been set up to help pay for Eisenberg's memorial.