Sono Con's Inconsistent Vendor Policies and Unprofessionalism at Issue
Sono Con (previously known as Gump City Con), was held this last weekend in Montgomery, AL, and has been at the center of a tiny bit of controversy. Vendor Amanda Willier was set to sell at the convention this past weekend, but (according to a post she made on Facebook) found herself confronted with inconsistent pricing and an unresponsive vendor team.
Willier initially applied for a spot after the convention had a last minute cancellation, and was told she could have the 10×20 spot for $750. She was also assured that she would be the only vendor selling metal art prings. Things weren't so easy when she arrived though, as she wrote in her post:
…I was shown my booth space however another vendor had taken half. I went and talked to them about this they said talk to the con. I went to the con and they had no clue what was going on. A staff person eventually told me that their company had been pushy and complaining so when they moved they decided to not stop them.

They then said I had a new booth. At this time one of my employees went to their website to look at their policies. That's when we discovered listed on their website my booth was only supposed to be $490. After being shown to my new booth which faced a wall I brought up the price difference. I was immediately dismissed saying it was because we were so close to the show. I then brought up the fact that another metal vendor was there. I also brought up that my original space was In view of the entrance and that the new space wasn't comparable.

They told the other metal vendor pulled in last night asked for table and paid WAY MORE than I did. I asked to verify this because I am friends with that vendor. The con doubled down. I went and spoke to that vendor who laughed. They said they booked awhile ago and only paid $490 for their 10×20.
Willier asked for a refund, as she had been overcharged for a space that. According to her post she was told by multiple staff members that no refund would come, and she is currently working with her bank to try and resolve the situation. We reached out to Sono Con staff for comment on this situation, but have yet to receive a response.
As an aside, while researching this story we noticed that back in October, Sono Con was promoting their con with an image that didn't appear to come from their event.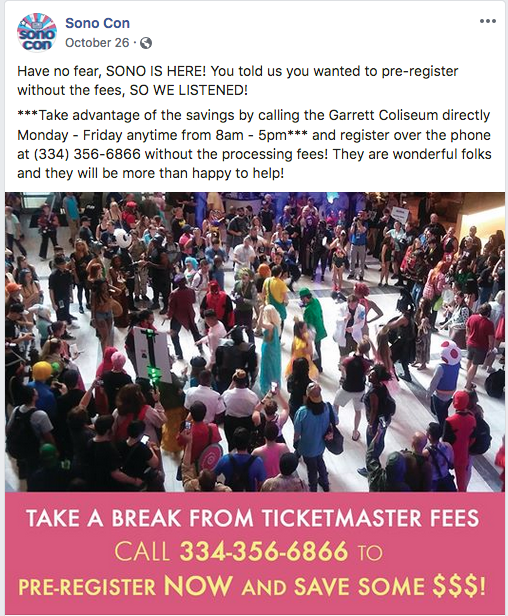 After a quick reverse image search, we were able to verify that
the photo was taken at Dragon Con
by
HM Photography
. A convention using an image of another (significantly larger) event in promotions is questionable to begin with, but to do so with a stolen image as well is so unprofessional that it's hard to begin to describe. It is downright mind boggling trying to figure out why Sono Con's management thought that using this image was remotely a good idea, especially since they had two years of their own event they could have dug through photos for.
Oh, and the con had Vic Mignogna as a guest, who (as you may recall) recently lost his lawsuit against two women who accused him of sexual harassment and the company that dropped him afterwards. I probably should mention that at some point.

Vic Mignogna is ready to see YOU! Come meet him NOW!

DOORS ARE OPEN!!

Happening now at the Garrett Coliseum min Montgomery, Alabama! pic.twitter.com/DDpQMhiFaO

— Sono Con (@Sono_Con) December 14, 2019