Super Awesome Action Heroes Second Edition Officially On Sale!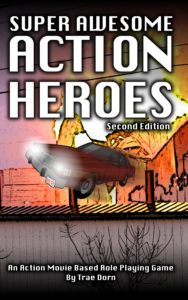 So fans of our actual play podcast Stormwood & Associates know that we use a role playing game system called Super Awesome Action Heroes which I created about fourteen years ago. I've always teased a print edition of that manual would come out, and once we started seriously running it with Stormwood (and I started to update issues the rules had I hadn't noticed), I started talking about a second edition.
Well, that second edition is finally here.
I'm happy to announce the release of Super Awesome Action Heroes Second Edition (how many times can I say second edition?). The rulebook is just as slim as the first edition, which is why it only costs $6.99 to buy. Characters created with the first edition rules should be 100% compatible with the new version, but some rules have been tweaked (and some Archetypes completely rewritten, removed, or added). An electronic version will eventually become available, but I haven't decided how I'll be putting that out yet.
I should also note that this is just the core rules, and does not include the Fantasy archetypes or the Supernatural add on. Those are still available on the official website for free, and will remain so even if they end up in a print expansion down the road too.
It's neat!