Arthur Suydam Seems Like a Bit of a Dick
So apparently comic artist Arthur Suydam has a nasty habit of showing up at cons where he's assigned one table and instead setting up over four, displacing other artists — and because he's a big enough name there are cons that let him get away with it.
In fact, it happened this weekend at Montreal Comic Con.
The artists displaced were Rachel Richey, Dan Parent, and Francis Manapul. If you're asking yourself how common this behavior is, without mentioning his name almost everyone was able to figure out who it was: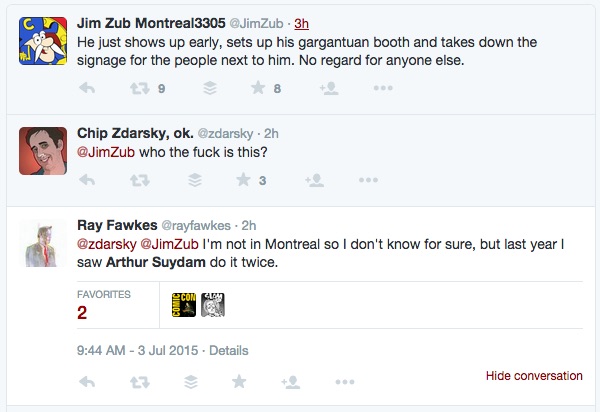 Now, as a former convention organizer, I'm always surprised when cons let people get away with garbage like this. A big name shouldn't be able to walk over others like this at a well run event, but the sad truth is some con organizers either get intimidated or just don't care.
…and those latter cons are the ones you should avoid.
Update: It just keeps going…
Via The Outhousers